Ospreys Schools Programme launches in Wales
The Welsh rugby region Ospreys have today launched a new educational programme for schools that will involve more than 3,000 children from Bridgend, Neath Port Talbot and Swansea over the current academic year.
The Ospreys School Programme, aimed at primary school children in years five and six, has been developed with education departments at the three unitary authorities in the region to make sure that it fits in with the National Curriculum for Wales.
It is hoped that the initiative will develop pupils' academic skills such as communication, literacy and numeracy though their investigations of different aspects of rugby, such as solving mathematical problems relating to point-scoring in the game.
The programme will also focus on key skills and lifestyle issues, such as helping to build awareness of personal welfare and self-esteem, encouraging teamwork and co-operation and highlighting the benefits of a healthy active lifestyle – including playing rugby.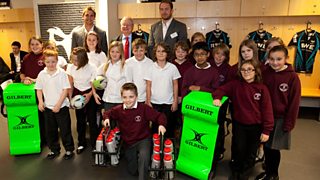 Leighton Andrews AM with Ashley Beck, Alun Wyn Jones and pupils from Gnoll Primary School at the launch of the Ospreys Schools Programme at Liberty Stadium. Photo: Huw Evans Agency
Leighton Andrews AM, the Minister for Education and Skills, was among the guests at the formal launch at the Liberty Stadium this afternoon. He said: "I would like to congratulate the Ospreys and all the partners involved in developing this Schools Programme.
"As well as promoting the importance of physical activity and interpersonal and communication skills, this programme also places a very important emphasis on developing literacy and numeracy skills - two of my key priorities for schools in Wales."
The programme will consist of four classroom sessions with each session including a visit from WRU and Ospreys officials or community rugby coaches. There will also be one appearance at each school by Ospreys rugby players.
School children on the programme will also enjoy an interactive tour of the Ospreys' home ground, the Liberty Stadium in Swansea, plus there will be a rugby festival day involving the participating schools to conclude the Ospreys Schools Programme.
Jason Lewis, the WRU National Rugby Development Manager, said: "Rugby is a part of school life in most schools in Wales. We recognise the enormous benefits rugby can have to the social and physical wellbeing of children in Wales. This programme demonstrates that rugby can also make a positive contribution to the academic achievement of young people."
Andrew Hore, the Ospreys Chief Operations Officer, added: "The programme aims to leave a lasting community legacy - helping improve not only rugby participation numbers but also numeracy and literacy, understanding healthy living, and how to look after the planet."
The Ospreys will work in collaboration with the Welsh Rugby Union for the schools programme, as well as their commercial partners RWE npower renewables and the Sony UK Technology Centre.
Related links