Making a series like 'The People Remember' seems not unlike a military operation in itself; with some serious schedules and comrades operating both back at base and across the world.
I joined the team in late August as a researcher and just 5 days later was flying over the channel towards my first foreign shoot, on the Somme battlefield for a film in Episode 2. I was let loose not only on the right-hand-side of the road, but on 2nd camera and GV duty. I absolutely loved the chance to exercise my eye. We'd been generously given access to an incredible museum collection and were able to take rare artefacts to a preserved trench system in the hope of bringing the experience alive. I was so captivated by its aesthetic that when filming a walk-through of the trench system, I failed to notice the wooden support I was about to walk into. OUCH. As initiations go though, a weekend at the Somme was, although rife with wind and rain, a welcome test. It was an amazing location and one where you could really feel the magnitude of the sacrifice made on that very battlefield.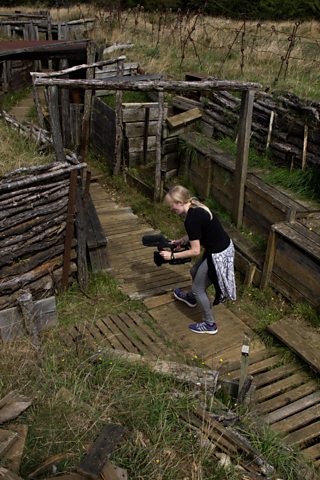 I came to the series having attending military events all my life. My brother joined the Royal Marines Band Service when I was 9, so a highlight of the series was definitely being able to reflect the work that they do, and the work of his predecessors during the Battle of Jutland in WW1.
We followed a modern day bandsman and his wife, on a journey to find out more about their great uncle George Deacon and his role at Jutland.Just days before filming, when I'd given up all hope of finding something amazing, I had an phone call from a distant relative I'd been tracking down and opened my emails to a picture of George Deacon that saw me cry at my computer screen. You'll have to watch Episode 4 to see it for yourself!
My career in drafting shooting scripts began with this film but being able to put relatives in touch for the very first time was a valuable experience for me and one that I felt brought me closer to my own brother too, and to understanding his role in the band service.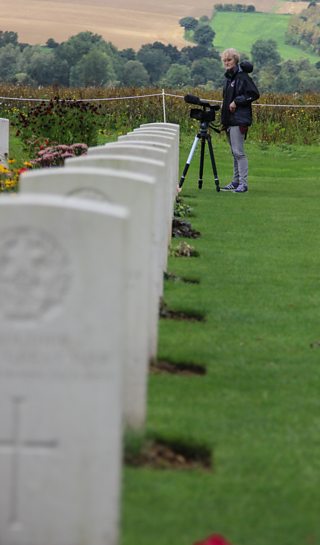 Shooting the remaining parts of the 6 episodes 'as live' in 3 days was always going to be a test, but if we passed, then it's down to good old-fashioned hard work and great leadership. Watching the episodes back I'm moved to tears, surprised and inspired all at once, and I hope you are too. It's been an absolute pleasure to work with such great team members, each with a real interest and care for the subject matter. I'm grateful to have just been a part of it, I've learned loads (including how to make a mocha in the office coffee machine) and am really proud of the end result.
I could choose so many highlights from the series but be sure to look out for 'Battle-Backers' Pat and Neil demonstrating just how far they've come in their recovery from injury; some really stunning farewell letters and the moment when Murray Walker squeezes power-lifter Micky Yule's biceps…I'll say no more, you'll just have to watch!
The third series of The People Remember, , produced by the BBC Studios Popular Factual team in Wales, returns on Monday, 7th November at 9.15am, BBC One