As a writer and art historian, I spend much of my time in museums and galleries so the landscapes I see are usually on canvas. However, there is nothing better than experiencing the real thing. For that reason, I was delighted to don my walking boots and head for the mountains in search of some places in Snowdonia that have inspired artists for centuries.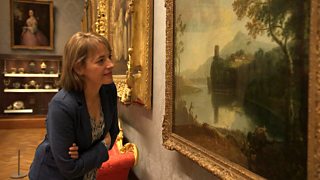 The author examining a Snowdonia landscape in a gallery
Snowdonia has attracted painters and printmakers for more than 250 years. While working on this programme I was astounded by the sheer quantity of artists who have visited the area. Different generations have been drawn by different things. Some, like the pioneer Welsh landscape artist Richard Wilson, highlighted the majesty of its peaks and castles, imposing his own order onto the landscape. Others, like J.M.W. Turner, went in search of drama, relishing the stormy, changeable weather and the stunning light effects that this produced.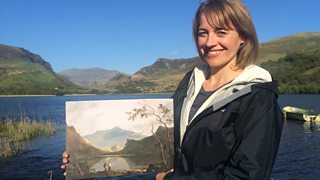 In situ with Richard Wilson's Llyn Nantlle painting
When we arrived with our camera, there wasn't a cloud in sight, let alone a Turneresque storm. Standing on the edge of Llyn Nantlle, where Wilson viewed Snowdon in 1765, the sky couldn't have been bluer. And this was exactly how Wilson liked his landscapes; he bathed Wales in the warm, glowing light that he had experienced while living in Rome.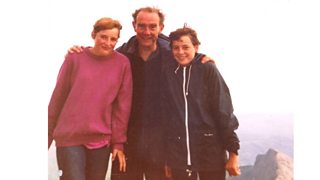 A teenage Mari Griffith and family after crossing Crib Goch
What excited Turner was something many of us will have experienced in the mountains. I certainly did when my father led my teenage self across Snowdonia's famously rocky ridges. Clinging on for dear life, I came to know that combination of terror and exhilaration often found in paintings, particularly Turner's: the Sublime. It's one thing to admire the immediacy of Turner's sketches in an art gallery, but experiencing the actual views that inspired him brings a very different kind of insight and understanding.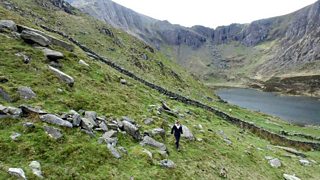 Cwm Idwal
Surprisingly artists also came to Snowdonia for company rather than solitude. From the mid-nineteenth century, a vibrant artistic community established itself in Betws-y-Coed, meeting at the Royal Oak Hotel. Filming there, it was easy to imagine the convivial gatherings of visitors from all over Europe. But it's the stay of a Welsh painter that stands out for me.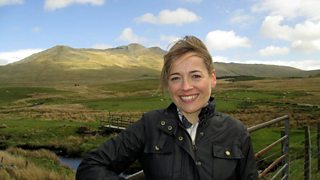 Mari with Arenig Fawr in the background
In the early twentieth century, J.D. Innes regularly visited the area between Ffestiniog and Bala. In this remote district, he and Augustus John applied the colourful language of modern European art to the Welsh landscape, to dazzling effect. Standing at the foot of the imposing mountain that inspired him, Arenig Fawr, was a highlight of the filming. Apart from the fact that two of my grandparents hailed from nearby, it's always thrilling to stand on the spot where an artist has worked and see how their renditions compare with the view that inspired them.
And maybe that's what makes these Snowdonia landscapes so compelling – for everyone. They present familiar and much-loved views at different moments in history and through very distinctive artistic filters, always casting the familiar in a new and revelatory light.
Inspired by Snowdonia is on BBC Two Wales, Saturday 13 June 2015 at 10pm
To find out more, and catch up with other programmes you may have missed, visit: bbc.co.uk/realnorthwales or join the conversation on social media #RealNorthWales.