We are used to hearing news of earthquakes in the developing countries or places such as New Zealand. Most of the time we might empathise briefly with the victims before then get on with our daily lives. Thank God such things don't happen here, we say to ourselves. But they do.
Several hundred earthquakes are detected by the British Geological Society every single year and while most of these, measuring less than 2.5 on the Richter Scale, are too small to even be felt by people, they can also sometimes be quite significant events.
Although the majority of the earthquakes that take place in Britain every year occur in Scotland, Wales has certainly had more than its fair share.
In 1986 the British Geological Survey reported that between 1727 and 1984 there were 70 earthquakes measuring more than 3.5 on the Richter scale recorded in Wales and on the borders of the Welsh Marches. No fewer than 15 of these measured over 4.5 on the scale.
1247 Pembrokeshire earthquake
The earliest reference to an earthquake in Wales came on 20 February 1247. The tremors from that event were so severe that structural damage was caused to the huge edifice of St Davids Cathedral in Pembrokeshire.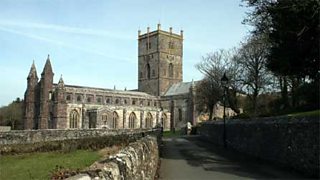 St Davids Cathedral (photo: PetesPix 2008)
North Wales, and Caernarfon in particular, seem to have always been prone to earthquake problems. Records show that the north Wales coast was hit as early as 1534 but the first recorded instance in the town of Caernarfon was on 7 October 1690. It seems to have been a year of earthquakes as, just two months before, the small community of Carmarthen in south west Wales was also hit. The 1690 earthquake in Caernarfon caused tremors that were felt as far south as London and across the Irish Sea in Dublin.
It seems that certain areas of Wales have always been more prone to earthquakes than others. What are known as clusters of seismic activity have long been recorded in places such as Pembroke, Caernarfon and Neath. No fewer than five instances have been reported in the Swansea-Neath area since records began, the most recent being in 1906, and there is no telling how many smaller shocks have also occurred.
1852 Caernarfon and 1906 Swansea earthquakes
The earthquake that took place on 9 November 1852 - again in the north Wales town of Caernarfon - set off tremors that were felt in both London and Glasgow. However, the 27 June 1906 earthquake in Swansea measured 5.2 on the Richter scale and is still regarded as one of the most significant of all British earthquakes. Certainly it caused major damage to property.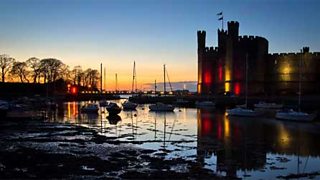 Caernarfon (photo: peteratarenig)
Thankfully, the damage from Welsh earthquakes has been mainly confined to property, although not totally. On 12 December 1940, with World War Two raging, there was yet another earthquake in north Wales. And this time there was a fatality when an old lady lost her balance and fell down the stairs of her house.
1607 Severn Tsunami
Many geologists and historians believe that the great floods of 1607, a raging wall of water that came charging up the Severn Estuary, killing no fewer than 2,000 people on both banks of the river, was actually caused by an earthquake. An underwater landslide, they think, led to the tsunami that created a wave over eight metres high and reached several miles inland. Other experts discount the theory, believing the wall of water to be caused by a storm of major proportions.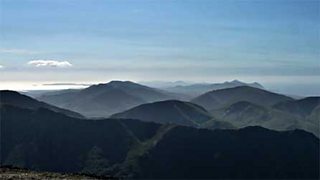 Llyn Peninsula (photo: rtjohnston9)
The largest recorded earthquake in Britain took place at 6.56am on the morning of 19 July 1984 on the Llyn Peninsula of north Wales. It measured 5.4 on the Richter scale and was centred on Llanaelhaearn. Damage was caused right across north Wales, chimneys and roofs being particularly badly hit. The shock waves were felt across many parts of western Britain and Liverpool, some 60 miles away from the epicentre, received considerable damage. There were rock slides and falls in several parts of north Wales.
What made the 1984 earthquake so unusual was the fact that it began at a depth of over 20 km and created a shock wave that could easily have caused major structural damage. On that occasion, luckily, it did not.
The most recent earthquakes in Wales took place on 13 February 2002 (in the south Wales valleys) and the following day in Conwy. We can be sure that they will continue to happen. They should not cause us undue alarm and can be regarded as just one more facet of the amazing world in which we live.