Pioneering folk project results in album launch and tour
Ten perfect strangers plucked from hundreds to reinvigorate Welsh folk music are to launch an album of their new work.
The musicians, who hail from a variety of backgrounds, were all selected to take part in the 10 in a Bus project, dreamed up by Wales' folk development agency, Trac, to attempt to demystify the music of our heritage.
The project saw the musicians travelling round Wales on a fact-finding mission to reconnect with their musical roots and establish the best way of reinterpreting more traditional material and making it current for audiences today.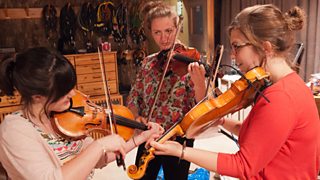 Photo: Stephen Rees
After visiting the sound archives in St Fagans, the National Library's music collections, as well as meeting some of Wales' 'tradition bearers' and ethnomusicologists, the 10 went on a week-long writing retreat at Tŷ Newydd, Llanystumdwy, to compose new material based on their experiences.
The result is a wonderfully diverse and haunting album which will be released by Trac and Sain Records later this month. The 10 in a Bus musicians will also embark on a tour which includes an appearance at the Swn Festival.
I caught up with Craig Chapman, one of the chosen 10, who is the pioneer of Replaced by Robots and is one half of John Mouse.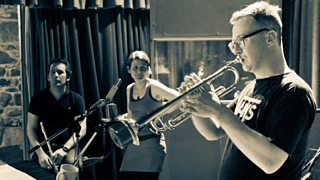 Craig Chapman, Catrin O'Neill and Huw Evans. Photo: Stephen Rees
Craig, who is from Aberdare and usually specialises in electronic music, told me that the experience had been incredible and invaluable.
He said: "It really opened my eyes to folk music, something I really had no experience of, and gave me a real passion for the music of our past.
"I did a lot of research about the Welsh conductor Caradog and became a bit obsessed about how much he did for Welsh music - without him there wouldn't have been any male voice choirs.
"One of the other musicians, Lleuwen Steffan, brought her one-year-old son along on the bus. He was called Caradog and we formed a real bond.
"As a result I named my track on the album Caradog. It has a sort of child's sound at the beginning and then uses loops of the various instruments people play but it manages to sound like a song."
Craig said he was surprised that not only did all the musicians inspire one another but they also bonded and became firm friends.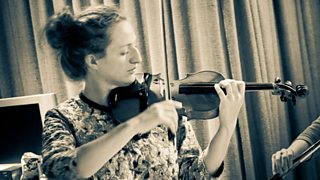 Francesca Simmons. Photo: Stephen Rees
The musicians were deliberately selected from very different musical backgrounds ranging from rock, pop and indie to classical, folk and electronica, and play a wide variety of instruments between them, including violin, trumpet, harp, cello, flute, bodhrán, horn, ukulele, guitar and even Javanese gamelan instruments and the musical saw.
The musicians included professional harpist Gwen Mairi Yorke, who grew up in a Welsh-speaking home in Scotland; former circus performer, violinist and musical saw player Francesca Simmons; and Gwilym Bowen Rhys from the rock band Y Bandana, who has also set up an alternative folk group called Plu with his two sisters.
More traditional folk influences came from Huw Evans and Catrin O'Neill. Evans is a folk singer, flautist and composer from Neath who attended The Big Experiment - Wales' annual folk school - in 2010 and has performed in Wales, England and Canada, while O'Neill is a bodhrán player and soulful singer.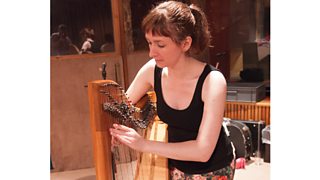 Photo: Stephen Rees
The group also featured the winner of France 3 TV's Album of the Year award Lleuwen Steffan, who has won awards for songs she has written in Breton; Them Lovely Boys fiddle player Mari Morgan; percussionist Leon Ruscitto, who has accompanied Alexandra Burke and Steps, as well as performing with his band The Provocateurs; and cellist and composer Ellen Jordan, who has acted as artistic director on a number of events, including a Javanese gamelan wayang, or shadow puppetry play, based on the Mabinogion story, Culhwch ac Olwen.
Trac's Project Officer Angharad Jenkins said: "Each of the musicians have led on at least one piece of music, so the personality of each musician comes through.
"It sounds like a compilation album as there is so much variety on it. Some tracks sound traditional, others pop-influenced folk, and other tracks are totally free and experimental.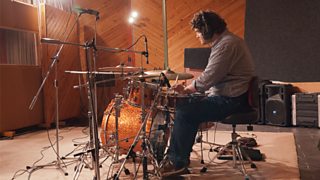 Photo: Stephen Rees
"There's a mixture of traditional and new music, but each piece is a direct outcome of that original research phase travelling around Wales in a bus, visiting archives, collections and meeting the tradition bearers, as well as the in-jokes between the participants.
"It's a real mixed bag, and I think everyone will find something to fall in love with. The album sounds better than I could possibly have imagined at the beginning of the year."
Craig feels that his experiences will be reflected in his music in the future: "I've just written a soundtrack for a BBC film for It's My Shout and folk does definitely have a place in it.
"Welsh music is in our souls and we are such a musical nation, it feels great to reconnect with the past in this way.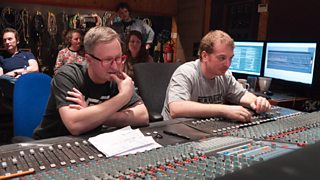 Photo: Stephen Rees
"We even got to see the original score of the Welsh national anthem at the National Museum of Wales in Aberystwyth and it was fascinating to learn that there were originally three verses and it was a folk song written by the people of Wales."
The 10 in a Bus tour will visit Galeri in Caernarfon on 17 October, Y Drwm, National Library of Wales in Aberystwyth on 18 October, Llangamach on 19 October and Chapter in Cardiff as part of the Swn Festival on 20 October. For further information, visit Trac's website www.trac-cymru.org.