Joseph Parry: a rags to riches story
Joseph Parry was arguably Wales' greatest composer. When he died in 1903 his funeral procession was so long that the hearse carrying his body was only just arriving at the church door as the last members of the procession were leaving his house, a distance of over a mile.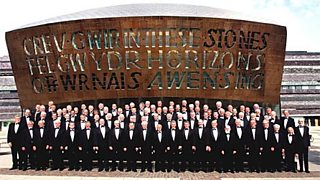 Parry's composition Myfanwy features in the repertoire of many Welsh male voice choirs
In a lifetime devoted to music Parry composed six operas, three oratorios and dozens of songs and anthems. Yet this man of immense talent and ability was born into poverty and spent several of his formative years working in coal mines and ironworks. His was a true case of rags to riches.
Joseph Parry was born on 21 May 1854 at 4 Chapel Row, Merthyr Tydfil. He loved music, excelling at performing and composing from an early age, but the family - seven children in all - was often in dire straits.
Joseph had to leave school to help support them, starting work down the mines at the age of nine. In due course he moved onto work in Cyfarthfa Ironworks, all the while continuing to play and compose music in the evenings and at every spare moment he could find.
Then, in 1854, when Joseph Parry was 13 years old, his father decided to move to America. It was a chance for a better standard of living, better working conditions, and although Joseph was at first reluctant to leave Merthyr, he eventually decided to accompany the family on what was then a wild and dangerous crossing of the Atlantic.
For the children - and their parents - it must have seemed like they were moving to a different galaxy. They settled in Pennsylvania where there was a large Welsh community and Joseph and other members of the family began working in one of the areas many iron foundries.
He soon became well known in local American-Welsh circles, regularly performing at the eisteddfodau and other musical gatherings. His fame grew steadily as he began to win music competitions both in America and in Britain.
After a while Parry's desire to study music overwhelmed everything else in his life and he returned to Britain where a public subscription gathered together enough money to enable him to go to London to study at the Royal Academy of Music. From this point on music - and the study of music - became almost the only thing that mattered in his life.
Joseph Parry won major prizes at the National Eisteddfod in 1863 at Swansea and in 1864 at Llandudno. A few years later he was elected to the Gorsedd at the National, taking the bardic name of Pencerdd America.
In 1873 he became Professor of Music at the University College, Aberystwyth, an amazing achievement for a man who had begun life in such unpromising conditions.
Joseph Parry remained at Aberystwyth until 1880. Then he moved back south, first setting up a private college in Swansea, then lecturer in music at the newly created university in Cardiff.
In 1888 Parry settled in the small seaside town of Penarth, moving into a house in Victoria Road that he bought with the aid of a Testimonial Fund. It cost £630. He became organist at Christchurch in Penarth, playing on Sundays to a packed congregation, and taking the train into Cardiff to work at the University every week day.
His best known works, now, are the haunting tune Myfanwy and what has been called the greatest hymn tune ever written, Aberystwyth. Both of them have, for many years, been staple elements in the repertoire of all Welsh male voice choirs.
According to legend there was a real Myfanwy in Parry's life, a girl by the name of Myfanwy Llwyellyn. Like Parry himself, she moved to America where she became successful as a singer. The story says that when they met, 30 years later, Myfanwy Llwyellyn snubbed the Welsh composer and he wrote his famous tune, full of pathos and yearning, as a result.
During his lifetime, however, his opera Blodwen was perhaps his most successful composition, being performed no fewer than 500 times between its début in Aberystwyth in 1878 and the end of the century. The opera Saul, commissioned for the 1892 National Eisteddfod at Rhyl, was almost as popular.
The writer Jack Jones immortalized Parry in his novel Off To Philadelphia In The Morning, the story of his struggle for artistic achievement and recognition. It has been made into a film, a suitable tribute to a remarkable man. The greatest tribute the composer could ever have been given, however, lies in the fact that his music is still recognised and still played. He would have wanted nothing more.
Joseph Parry was buried in the churchyard of St Augustine's Church in Penarth. His grave, surmounted by a pedestal and a carved harp, dominates the graveyard, a fitting reminder of a man who grew from abject poverty to become the greatest composer Wales has yet seen.