James 'Big Jim' Callaghan
James Callaghan - the only 20th century prime minister to hold the offices of Chancellor of the Exchequer, Home Secretary and Foreign Secretary - was born a century ago today.
Callaghan became the Labour MP of Cardiff South in 1945. After serving as a junior minister in the Attlee government, he became Chancellor of the Exchequer when Labour returned to power in 1964, overseeing the controversial devaluation of the pound. Following his resignation, Callaghan, or 'Big Jim' took the post of Home Secretary between 1967 and the summer of 1970.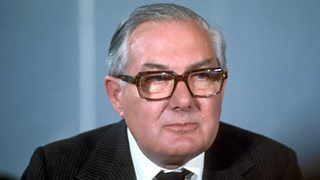 Prime Minister and leader of the Labour Party Jim Callaghan in Abingdon electioneering for the 1979 General Election.
As Home Secretary, Callaghan took over from Roy Jenkins' role and witnessed the ratcheting up of violence in Northern Ireland. During this period, British troops were deployed to protect the minority community.
The Portsmouth-born south Wales MP's stint as Foreign Secretary was cut short as Callaghan went for the leadership of the Labour Party following the surprise resignation of Prime Minster Harold Wilson on 16 March 1976. Callaghan, with wide support from his party, defeated Michael Foot.
In this BBC News clip from July 1976, Callaghan is on his second day of a visit to south Wales. Here the Prime Minister is searched for contraband as he prepares to enter the west Wales colliery at Betws New Drift Mine that was planned to open in 1978.
Throughout his premiership, Callaghan was hampered by a lack of a clear majority. Very early on in his role as Prime Minister he was forced to rely upon the support of the Liberal Party and with the British economy in strife, amid high inflation and rising unemployment, a controversial decision to seek an emergency loan from the International Monetary Fund caused tensions within the party. Between 1976 and 1979, Callaghan's government introduced the Police Act, the Housing (Homeless Persons) Act in 1977 and the Education Act of 1976.
The economic turmoil that raged throughout the 1970s culminated in a number of strikes during the winter of 1978-1979. Infamously dubbed The Winter of Discontent the industrial and social strife proved too detrimental for the Labour Government under Callaghan and a motion of no confidence was called by opposition MPs in March 1979.
As Margaret Thatcher's Conservative government famously won the 1979 election, Callaghan remained Labour leader for another year before handing over to the man he once defeated in the leadership election, Michael Foot.
In 1987, Callaghan was made a life peer and Knight of the Garter. He died on 26 March 2005, on the eve of his 93rd birthday, becoming the longest living former Prime Minister.