Kenneth Griffith, Welsh actor and documentary filmmaker
For anybody who loves the old British films of the 1940s, 50s and 60s, those black and white Ealing Studio and Boulting Brothers comedies that were symptomatic of the era, the face of Kenneth Griffith will be immediately recognizable.
He specialized in character parts, more often than not playing a sycophantic and ambitious supporting role to actors like Peter Sellers and Ian Carmichael in films such as I'm All Right, Jack and Lucky Jim.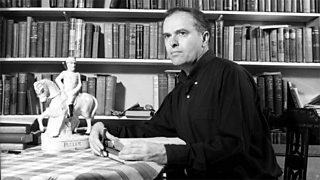 Kenneth Griffith in The Soldiers Of The Widow, 1967
The role of the 'snide,' the unpleasant weasel you would willingly put down or annoy, could not have been further from the truth because Griffith was a man who believed in saying what he thought – and with the talent to back up his opinions.
Born in Tenby on 12 October 1921 as Kenneth Griffiths, he was brought up by his paternal grandparents after his mother and father separated when he was just six months old.
A good scrum half for the school rugby side, a regular attender at the local Methodist chapel, he attended Greenhill Grammar School in the town where he was mentored and encouraged by his English teacher who clearly saw his promise. He was also advised to drop the 's' from the end of his name by the school headmaster, JT Griffith – it would, the head advised, seem less Welsh.
Kenneth Griffith (minus the 's') left school in 1937 and went to Cambridge where his first job, in an ironmongers shop, lasted just a day.
Always fond of acting, he became involved with the Cambridge Festival Theatre where his first part of any note was as Cinna the poet in Julius Caesar. In due course Griffth became a regular in repertory shows across the country and made his West End debut in 1938.
A year later, just before war broke out, he joined the RAF, reading Mein Kampf in his spare time – it was good to know what you were fighting against, he said. Sent to Canada for flight training, Griffith contracted scarlet fever and in 1942 he was invalided out of the service. The RAF's loss was acting's gain.
Kenneth Griffith made his film debut in 1941, before being discharged from the RAF, in a film called The Farmer's Wife. It was not a great vehicle for his talents but he then joined the Old Vic Theatre Company where he was really able to develop his art. The Old Vic was where he met a man who became a great and lifelong friend, the actor Peter O'Toole.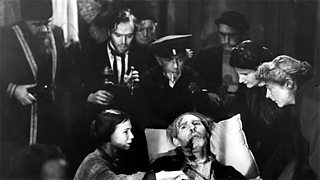 Griffith (top, second left) as Raskolnikoff in Crime and Punishment, 1953
Over the next few years Griffith made dozens of films. In his long career he appeared in over 100 movies, dramas and comedies alike. He will always be remembered for his roles as the librarian Jenkins in Only Two Can Play and as the fawning trade union official in I'm All Right Jack.
Less well remembered but equally as effective was his performance as the wireless operator Jack Phillips in the Kenneth Moore film about the loss of the Titanic, A Night to Remember.
Kenneth Griffith also worked in television where his credits included The Prisoner, Minder and Lovejoy. Two late film parts of note were as the irascible wedding guest who berates Hugh Grant in Four Weddings and a Funeral and, in a wonderful cameo, the Rev Jones in The Englishman Who Went Up a Hill But Came Down a Mountain.
But Kenneth Griffith was not just an actor. In 1965 he was asked by the BBC if he would like to make a documentary. He was given free rein, the choice of subject could be his.
The offer resulted in a whole series of documentary films on subjects such as the Boer War, the Indian premier Nehru and Tom Paine, a man he called "the most controversial Englishman who ever lived."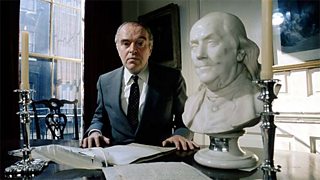 Griffith in Omnibus: Give Me Liberty Or Give Me Death, 1976
Griffith pulled no punches in his documentaries – witness his intensely critical account of Cecil Rhodes in A Touch of Churchill - and was once ordered out of Iran after making a film about the Biblical three wise men.
His 1973 film on the life of Irish patriot Michael Collins, Hang Up Your Brightest Colours, was highly critical of the British government and with the IRA troubles escalating, the documentary was banned by the Independent Broadcasting Authority. It was not shown on television until the BBC finally screened it in 1993.
Another of his films, Curious Journey - interviews with surviving Irish patriots from the Easter Rising of 1916 and its aftermath – was also banned and Griffith was thrilled to note that Margaret Thatcher once called him "a dangerous Marxist." He insisted on naming his home Michael Collins House and once actually received death threats from people in Ulster.
Married three times, Kenneth Griffith became a victim of Alzheimer's disease in later life, an affliction that enforced his retirement from acting and directing. He remains famous for his hugely comedic parts but he was also powerful in more dramatic roles such as his portrayal of a vicious blackmailer in The Shop at Sly Corner.
A huge talent, both as an actor and as a director, Kenneth Griffith remains one of Wales' best loved artists. Look out for him the next time you switch on one of those afternoon films – you will not be disappointed.