I'm a big believer that food and family should be at the centre of everyone's upbringing
My career originated in PR so it was overwhelming when I was asked to move from behind the camera to in front of the camera - I was used to directing shoots and events, not being in the limelight myself! However, I am hugely passionate about what I'm doing right now; I'm a big believer that food and family should be at the centre of everyone's upbringing - even if family isn't your immediate blood relatives. Everyone should be surrounded by people they love and support. It's what makes the world a happy place, in my opinion!
So doing what I do now - promoting simple food, family and community is very exciting for me. It all started with a series on C4 and our family cook book which I wrote with my sisters. Now my sisters and I are working with Jamie Oliver on YouTube, uploading free simple recipes for all to enjoy while also talking about baby weaning and feeding a family.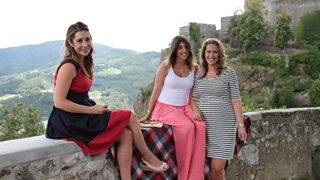 Michela and her sisters enjoy a picnic in the Italian sunshine
And now here I am presenting a documentary called The Welsh Italians about the Welsh Italian community for BBC Wales. This is a community I grew up in, in the Welsh Valleys. It's still vibrant and full of life today and again centres around food and family.
It's not always easy to get people to come on camera - us Italians are often big personalities, however we do like to keep things private too! After some gentle persuasion, I have managed to get some great stories and secrets revealed in this two-part series. It shows how happy and settled the Italians were made to feel by the local Welsh communities, and how each have become intricately linked. You won't believe how many Welsh accents you hear during August in the little town of Bardi in the hills of northern Italy!
Episode 1 of The Welsh Italians is at 6.30pm on Sunday 23 March, BBC One Wales.