The investiture of Edward VIII - success before tragedy
No matter what your feelings or opinions about the post, position, honour (call it what you will) of Prince of Wales, the 1911 investiture of Edward, later king Edward VIII, has to be one of the most interesting moments in the long and often troubled relationship between Wales and England. With hindsight, it is also one of the saddest.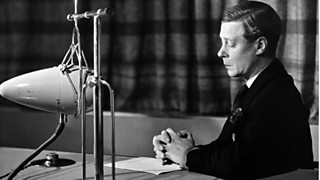 HRH the Duke of Windsor (became Edward VIII in 1936) broadcasting to the empire from Broadcasting House, April 1935.
Arguably, the last true Prince of Wales was Owain Glyndwr who was crowned in 1404 - although there are many who would say that Llywelyn, killed by the forces of Edward Longshanks in 1282, was really the last man to hold the title. The title of Prince of Wales as we know it was invented and first bestowed by Edward 1st in 1301, the recipient being his infant son.
Legend, of course, has had a field day with this event. The Welsh leaders, says the story, wanted a Prince who could speak no English. Edward gave them his baby son who could speak neither Welsh nor English. It is just a story and one that bestows far more credit on Edward than it does on the Welsh chieftains - which is what the circulation of the legend was all about anyway.
It quickly became traditional for English kings to make their heirs Prince of Wales. And to begin with the coronet of Llywelyn the Last - deposited by him for safe keeping with the monks at Cymer Abbey but which soon to fall into the hands of the avaricious Edward - was used in the ceremony.
Interestingly, a public investiture was not always thought to be necessary. The title Prince of Wales was created by Letters of Patent and the ceremony - usually held in front of the members of the Houses of Parliament - was only a formal piece of pomp. Nevertheless the coronet of Llywelyn was always used until it became too old and new ones had to be made.
George V ordered the coronet of George, Prince of Wales to be made for his investiture at the end of the 19th century and went on to wear it, both then and at his later coronation. When the time came for his son to succeed to the title he also used the coronet. When Edward (David as he was always known) went into exile after his abdication he took the coronet with him, something that was actually illegal. So when the time came for Prince Charles to be invested in 1969 another new coronet had to be made.
The decision to make the investiture of Prince Edward (Edward VIII as he became) a public occasion owed much to the machinations of David Lloyd George. Concerned about his own popularity - and the clear growth of Welsh nationalism - he persuaded King George V to agree to a public ceremony. This was most unusual and was undoubtedly playing on the king's immense popularity.
He had been a well respected prince of Wales who had taken considerable interest in his adopted country - as he did with many other parts of the British Empire. As a result there was a groundswell of support for the new king and a clear expectation that the title would quickly be passed on to his eldest son.
Edward was actually created Prince of Wales on his 16th birthday, 23 June 1910. The investiture came a year later, on 13 July 1911. Edward was duly dressed in ceremonial robes - a garb that he considered ludicrous - and underwent the Investiture ceremony at Caernarfon Castle. The location, once more, owed much to Lloyd George. It was a distant spot, hard to reach from other parts of Wales, let alone England, but it was in Lloyd George's constituency and was, of course, the place where Edward I had originally purloined the title back in the 14th century.
As Prince of Wales, Edward was hugely popular. He served with distinction in World War One and, during the Depression years, toured the badly hit parts of Britain - the Welsh mining valleys in particular. His phrase "Something must be done" when confronted by the poverty and hardship has gone down in folk lore.
Of course, nothing was actually done - either by the prince or by government. But it helped to increase Edward's popularity so that when the Wallis Simpson scandal finally erupted there was much sympathy for the Prince of Wales. Edward became king on 20 January 1936 and, unable to marry the woman he loved, a divorced American - how different things are these days - he abdicated on 10 December the same year. Sadly, he had spent 25 years as Prince of Wales, less than a year as king.
Whether or not Edward would have made a good king remains a matter of conjecture. Many people felt that he had been a good Prince of Wales. His story is a tragic one, a man who gave up a position of power and influence for the woman he loved - the most famous and renowned of all princes of Wales.