Born at Monmouth, one of the most famous of English kings
Henry V is one of the most famous of all English kings. However, the perception of most people has been formed not by reading history books but by watching Shakespeare's plays. Henry features in three of them: two as heir apparent and, perhaps more memorably, as the friend of Sir John Falstaff and one as the actual king. 
The second English king from the House of Lancaster, Henry succeeded to the throne in 1413. In a brief reign of just nine years he won the Battle of Agincourt and very nearly managed to bring the whole of France under his control. Had he succeeded it would have ended the Hundred Years War and the whole history of Europe would be different. 
Arguably, like Richard the Lionheart, Henry was not a particularly good monarch or ruler of England. Most of his short reign was spent in campaigning and advancing English claims to the throne of France. Good king or not, Henry was certainly a great soldier and much of his skill in the military arts was learned in Wales, fighting against the forces of Owain Glyndŵr. 
Henry was born in a tower above the gatehouse at Monmouth Castle. Indeed, for much of his short life he was actually known as Henry of Monmouth.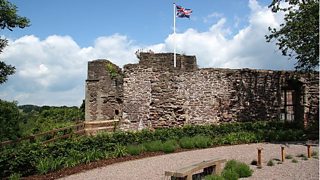 Ruins of Monmouth castle
Photo © Richard Croft and licensed for reuse under this Creative Commons Licence.
The son of Henry Bolinbroke and his 16-year-old wife Mary de Bohun, the new infant was also the grandson of the powerful and influential John of Gaunt. He might have had important family links but he was so far removed from the succession that his birth was not officially documented and there has always been some debate about the actual birth date. 9 August has been put forward as one possibility, 16 September as another. 
Even the year of his birth is unclear – was it 1386 or 1387? The jury remains out although most people now believe that 16 September 1386 was when the future King Henry V entered the world. 
Henry lost his mother in 1394 when she died in childbirth and he was brought up by his maternal grandmother, the Duchess of Hereford. He was taught the rudiments of soldiering and armed combat by Harry "Hotspur" Percy and educated by his uncle, Cardinal Henry Beaufort. It meant that the young man had a wonderfully rounded education and outlook on life. 
Nevertheless, Henry grew up cold and distant. His one interest in life was soldiering. Henry's relationship with his father was, at best, turbulent and when Bolinbroke was forced into exile the young Henry of Monmouth was taken into the household of the king, Richard II. It was not quite captivity but the young man was certainly kept by the king as a type of protection against any further action by the Lancastrian faction. 
Henry and Richard grew fond of each other and it has been said that maybe, just maybe, Henry had more affinity with the man who was soon to be deposed by Bolinbroke than he ever did with his own father. He went campaigning in Ireland with Richard and was knighted by him in 1399. 
That same year Henry's father returned from exile, overthrew Richard and proclaimed himself king. Loyalty and friendship notwithstanding, Henry was not going to miss a chance like this and immediately fell in with his father's wishes. The young Henry was made Prince of Wales on the very day of his father's coronation. 
As a usurper, Henry IV faced regular uprisings and rebellions. One of the most significant was by Owain Glyndŵr and almost from the beginning of his father's reign the new Prince of Wales found himself at the head of an army, fighting in the Welsh marshes and hills. 
The campaigns against the Welsh prince taught Henry a lot about various aspects of war, notably the establishment and conduct of sieges.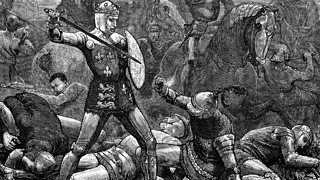 Engraving depicting Henry V at the Battle of Agincourt. Image: iStockphoto.com/duncan1890
It was a skill he would later use to great effect in the sieges of Harfleur and Rouen. The war in the west ground relentlessly on for nearly 10 years but it was mainly thanks to Henry's military skills that the Glyndŵr rebellion eventually ran out of steam.
Harry Hotspur had thrown in his lot with Glyndŵr but in July 1403 at a pitched battle near Shrewsbury, Henry defeated the Percys and effectively secured the throne for his father. An arrow wound to the face could have been fatal but revolutionary treatment by John Bradmore, the royal physician, saved the prince's life. Having used a new tool to screw out the broken arrow shaft, Bradmore then used honey and alcohol to clean and cauterise the wound, leaving Henry with severe scaring but his life intact.
Henry became king on the death of his father in 1413. Almost immediately he began to plan his campaign in France. It culminated in the Battle of Agincourt in 1415 when Henry's much smaller army defeated the mighty French force. Harfleur was captured the following year and between 1417 and 1419 the English king was campaigning relentlessly in Normandy.
Henry died suddenly and unexpectedly on 31 August 1422 from dysentery contracted during the siege of Meaux. He was a young man with significant Welsh connections but he remains the quintessentially chivalric figure of English folklore and legend. It is a reputation that, perhaps, hides his shortcomings as the leader of his country.