The death of Richard Burton
Opinion is divided as to the quality of many – if not most – of Richard Burton's films. Yet there is no doubt that the man was a superb actor with a magnificent baritone voice who could, if he had chosen to remain acting on the stage, become a name as great as Olivier. What is equally as certain is the fact that he wasted his talent and, eventually, drank himself to death.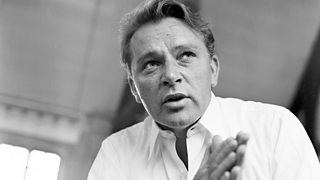 Burton in A Subject Of Scandal And Concern, 1960
That death occurred at his home in Celigny in Switzerland on 5 August 1984. He was just 58 years old. He had, for years, been an alcoholic and had nearly died from overuse of hard liquor in 1974. Even before that, in 1970, he had been warned that his kidney was enlarged and told that this could and would cause him significant problems in the years ahead. Burton chose, as might be expected, to ignore that advice.
Alcohol was always a significant problem for Richard Burton. He claimed to have been drinking heavily at the age of 12 – and smoking. Both vices remained with him to the end.
At one stage Burton was putting away three bottles of vodka a day and, although he tried to avoid it, he had to undergo the 'drying out' process that so many other movie stars had also had to endure. During the shooting of his film The Klansman many of his scenes had to be shot with him sitting or lying down because he was unable to stand.
Ill health seemed to accompany Burton at all times. He suffered from arthritis, dermatitis and, inevitably, cirrhosis of the liver. Although his death came as a major surprise for many of his fans, Burton had been complaining for some time about severe neck pains and he eventually succumbed to a massive brain haemorrhage.
Born Richard Jenkins, in Pontrhydyfen just north of Port Talbot, he was brought up by his sister after his father deserted the family. Taken under the wing of his schoolmaster and drama coach Philip Burton, the young Richard went on to take his name and, at his urging, carve a niche for himself in the theatre.
Burton and Taylor at Cardiff railway station with Brian Hoey for Wales Today in 1965.
In the 1950s and early 60s Burton was the darling of the theatre circuit and his 1964 interpretation of Hamlet was outstanding. He was, many felt, the natural successor to Olivier but Burton turned his back on the stage and moved to Hollywood.
Burton's tempestuous relationship with Elizabeth Taylor – he married her twice – has tended to over-shadow what was clearly a great love affair. At the end of the day, however, they were not good for each other and there are many who claim that his failure to win the Oscar for Who's Afraid of Virginia Woolf – Taylor won the award for the same film – was the last nail in the coffin of an already doomed relationship.
Richard Burton was buried in a red suit, proud Welshman to the last. He always said that he would have preferred just one cap for Wales at rugby than playing Hamlet at the Old Vic or Stratford. And there are many who claim that he could have played at a high level had the acting profession not caught him in its grip.
Burton was a great fan of Dylan Thomas. They met many times, although there is no doubt that Burton was twice the drinker than Dylan would ever be. He was buried with a copy of Thomas' Collected Poems on his chest.
Richard Burton was, possibly, one of the greatest acting talents to come out of Wales. Although he wasted and squandered that talent, his life was lived as he wanted it to be lived. And nobody can begrudge him that.