The British Home Children of Wales
In July 2012 I wrote about visiting Gwent Archives and how I encountered Nerea Martinez de Lecea's art work. At first glance it would appear that Nerea and I have nothing in common but she is now working on an incredible new art project, the origins of which are based firmly within the field of family history.
If you have never heard of the British Home Children (BHC) then prepare to be amazed by their story - a story that is soon to be told through Nerea's artwork.
The Ballad of Ivor Jones is a project created by Nerea, based in Wales, and Michele Woodey, based in Canada, who collaborate as Found&Lost.
They have been researching the experiences of British Home Children, who were transported to Canada, taken from their home country and sent across the water.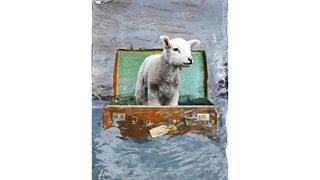 Lost Lamb at Sea. Image courtesy of Found&Lost.
Among the 118,000 children ranging from toddlers to adolescents who were sent from Britain to Canada between 1863 and 1939 there remain a number who remain 'unclaimed'. This means that so far nobody has tried to research them, trace their family history or claim them by connecting them to their own family tree.
During Nerea and Michele's research, one unclaimed boy's name stood out and he has become the focus of their work.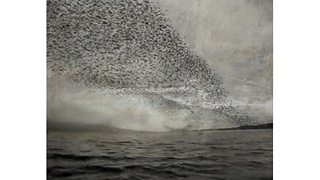 Migration. Image courtesy of Found&Lost.
Ivor Jones was a 10 year old Welsh boy who was sent to Canada by Barnardo's in 1900. He sailed on the Tunisian out of Liverpool but never returned. Like many other British Home Children, Ivor's story is all but lost. His persona and individuality have been wiped away by time.
Nerea and Michele cannot access Ivor's records since they are not direct descendants, but they see Ivor as an empty vessel through which they can explore more general themes of abandonment, loss, journey, home and identity.

Nerea and Michele will spend two weeks developing part one of this project, which will include the production of a large-scale video installation, the creation of a sound work with artist Chris Young, and a performance by a junior choir of a new work by musician Imogen O'Rourke. This project is supported by National Theatre Wales and is part of their WalesLab scheme.
George Llewelyn Thomas was another British Home Child, taken into Barnardo's at the age of two after a string of unfortunate circumstances.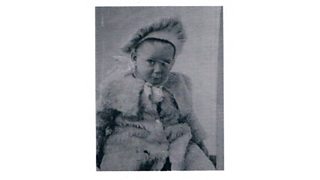 George Llewelyn Thomas aged two. Image courtesy of Tom and Carol Black.
However George Thomas is not one of the unclaimed and certainly not unloved or forgotten. Carol Black is married to George's grandson Tom and they are desperately trying to trace any other members of George's family.
Carol says "I have been trying for a long time to trace his half siblings and their descendants because in the paperwork I received from Barnardo's he (George) asks quite a few times for the whereabouts of his mother and his sister Nancy, whom he named his oldest daughter after."
George's mother was Elizabeth Mary Thomas (nee Haines) who lived with her husband John Thomas at 267 Brithweunyedd Road in Trealaw, with her other children Nancy and John Hayden Thomas.
Do you recognize any of the names? Do these people belong in your family tree? If so please get in touch with me.
However, according to the paperwork George's father was actually George Williams. Elizabeth's husband John Thomas was unwilling to raise him and so little George was cared for by various members of his maternal family, living with four women by the age of 2 when he was eventually admitted into the care of Barnardo's.
Unfortunately neither Carol nor myself can find George on the 1911 census (even though we know he was born in Cardiff on 28 August 1909) and worse still he was on board the boat travelling to Canada aged 12 at the time of the 1921 census.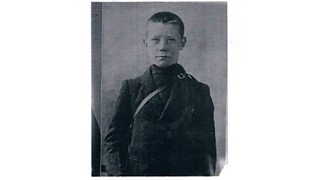 George Llewelyn Thomas aged 12. Image courtesy of Tom and Carol Black.
George went on to fight in World War Two and was a surviving veteran of Juno Beach. His name appears on the memorial that was dedicated there in 2003.
When Carol started her research it was quite a revelation for the family since George had never told any of his children that he was a British Home Child from Barnardo's. There are a number of family members in Canada wanting to know more about their Welsh ancestry.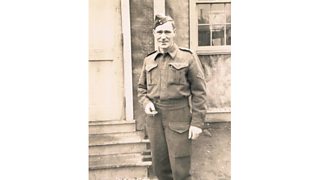 George Llewelyn Thomas during WW2. Image courtesy of Tom and Carol Black.
Luckily Carol, Nerea and Michele are not alone and they have the help and support and a wealth of information thanks to Lori Oschefski and the British Home Children Advocacy & Research Association. This is an international organization that strives to catalogue Home Child information and Home Children stories, to reconnect families unjustly torn apart by these migrant programmes and to promote the story of the Home Children across the world.
I defy anyone not to be moved by the images on Lori's website of all the trunks and suitcases that the British Home Children arrived with and which have been kept safe all these years.
This year there will be special BHC themed events; including a special WW1 Commemoration Ceremony to be held on 28 July 2014 at Black Creek Pioneer Village in Toronto, Ontario, to remember and honour more than 850 Home Children who perished in the Great War.
It's not often that I come across a collaboration between family history and art, let alone one with such strong emotional links to social history. This has been a wonderful experience and I shall follow Nerea and Michele's work keenly.
One day I hope to be able to report that George's half siblings survived and had children and grandchildren of their own who can now be proud of George and what he achieved in life despite the early hardships he suffered.
Nerea, Carol and Lori will be joining me live on the Eleri Siôn show on BBC Radio Wales this Wednesday, 26 February.
On 26 March I will be returning to BBC Radio Wales in a special programme dedicated to Mothering Sunday, so if you have a story to tell or a puzzle to solve which involves your mother or her family history then please get in touch.