A letter from the long lost summer, Ronan said it best, that life is indeed a rollercoaster. It's been such a mental month, I don't quite know where to begin. In fact I say month, but my feet haven't touched the ground properly since the beginning of the summer and for me the beginning of festival season was back in April!
Radio wise, the new BBC Radio Wales rock show on Saturday nights has been keeping me busy with incredible guests: Ian Lostprophets, Aled Kids In Glass Houses and, of course, Sir Tom Jones, plus James Dean Bradfield and The Blackout still to come.
The Blackout show this week, which we recorded with the band this Tuesday, was an absolute delight from start to finish, with exclusive tracks played solo by vocalist Gavin Butler. They came in after a triumphant performance at Cardiff's Big Weekend last Friday, it really felt like their moment to cross over from the hardcore of faithfuls to become household names here in Wales, aided by the fact that their songs are sounding more polished than ever.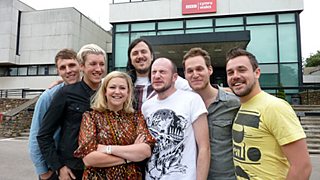 Outside BBC Wales' Cardiff studios with The Blackout
Each night this week I've been travelling up to Ebbw Vale to the National Eisteddfod, to judge a Battle of the Bands on Maes B. Two nights, loads of bands, excitable youngsters, and industrial buildings as cold as Siberia. The winner announced last night was the young talented 'bit producer' Crash.Disco! from North Wales, whose live dance act blew the competition out of the water. He was MEGA LOLZ!!! or something equally terrifyingly out of sync with da kidz.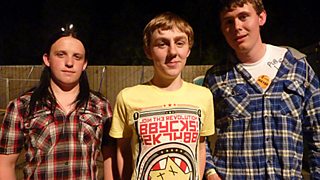 Crash.Disco!
Last weekend I was DJing at the brilliant Field Day festival in London where Gruff Rhys and Cate Le Bon were also performing. A largeish festival in East London, with the 'tongue in cheek' feel of a village fête (it comes with foolish fête competitions and races), it's a recipe for success and the wonderful friendly staff and brilliant line up made it quite a day out!
Gruff Rhys was a guest on my Radio One, BBC Introducing show last week to celebrate his gigs with the enigma that is Tony Da Gattora on their collaboration Terror of Cosmic Lonliness, a brilliant but challenging album. Their live shows have not been for the faint hearted, but I'm a convert. Gruff chose some Brazilian songs to celebrate.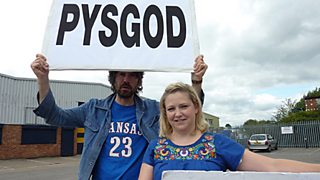 Gruff Rhys stands up for fish!
This week's session is from Brooklyn band Savoir Adore, who played in Cardiff recently and I had the pleasure of showing them the sights, so we had some ice cream down the bay! (Listen this week's session from today onwards).
And and and and and and and... I could go on. The summer adventures continue with so many brilliant things planned I can hardly contain myself. A live radio show for BBC Radio Wales from Green Man Festival, hosting the main stage at The Big Chill festival this weekend, with the monster rock of Reading too at the end of the month.
As our Welsh hero Matthew Pritchard from Dirty Sanchez would say: "Sleep when you're dead!"
Have your say! If you want to comment on this or any other BBC blog, you will need to sign in to your BBC iD account. If you don't have a BBC iD account, you can register here - it'll allow you to contribute to a range of BBC sites and services using a single login.
Need some assistance? Read about BBC iD, or get some help with registering.