Johnny Morris, TV pioneer
Most people have heard of Johnny Morris, the radio and TV personality who for years charmed children and adults alike with his programmes such as Animal Magic and Tales of the Riverbank. Indeed, he can justifiably be called the man who began Britain's love affair with animals.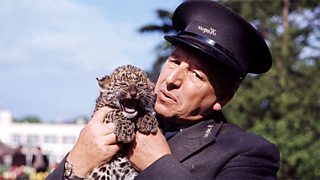 Johnny Morris with a leopard cub in Animal Magic, 1976
Yet few realise that this gifted and talented broadcaster was actually Welsh. Most people believe he came from the westcountry as that was certainly the accent he used in many of his TV and radio shows.
But no, Morris was born at Newport in Monmouthshire (as it then was) on 20 June 1916, while the Great War was at its height.
The son of a postmaster, Johnny Morris had early ambitions to make a living out of music. He learned to play the violin and, together with his father who, as well as being a postmaster, was also a gifted cellist in his own right, as a child Johnny toured South Wales, playing to captivated audiences.
The son of a postmaster, Johnny Morris had early ambitions to make a living out of music. He learned to play the violin and, together with his father, who was also a gifted cellist, as a child Johnny toured south Wales, playing to captivated audiences.
When the time came to leave school, Morris had a plan to make a living on the stage. He had joined the local repertory company in order to gain experience but the 1920s was a difficult time to try to make a living out of music and the arts. At the age of 17 he moved to London to try his hand there, but it all came to nothing.
He was forced to earn a crust in other ways and, over the coming years, worked as a solicitor's clerk, a salesman and as the timekeeper on a building site.
It was 1946 when his big break came. The radio producer Desmond Morris – no relation – overheard him telling stories in a Wiltshire pub and immediately thought there was mileage in the young man's distinctive voice. He duly signed him up and Johnny made his BBC radio debut that same year.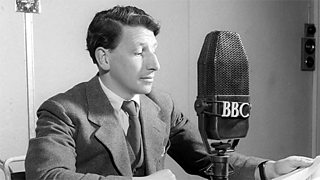 Johnny Morris in a BBC radio broadcast, 1947
Over the next few years Morris made regular appearances on the radio, mainly as a story teller and raconteur but, occasionally, as a commentator.
His television debut came in 1953 when he created the role of The Hot Chestnut Man. It was a simple enough format. Johnny would sit in front of a brazier, roasting chestnuts, and tell stories in a broad westcountry accent. This series of children's programmes lasted until 1961.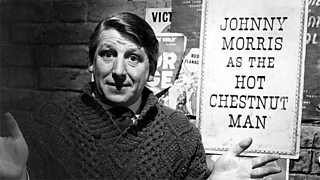 Starring as The Hot Chestnut Man, 1962
In 1960 he began a new series, the idea imported from Canada, called Tales Of The Riverbank. Morris was the narrator and the series introduced children's favourites Hammy the Hamster and his friends.
Another series that he narrated from around this time was the Railway Stories, adapted from the Rev Awdry's tales about Thomas the Tank and other engines.
It was not just children's programmes that Morris made in these years. He was an inveterate traveller and his journeys took him all over the world. As a consequence, he made many travel films for his popular series Johnny's Travels.
Johnny Morris is perhaps best known, however, for his role in Animal Magic. Many of the programmes were shot in Bristol Zoo.
The series began in 1962 and consisted, in the main, of Johnny engaging in comic dialogue with various animals. Hugely popular with young viewers, the series lasted until 1983 when it was dropped after the concept of animals being given human characteristics finally went out of fashion.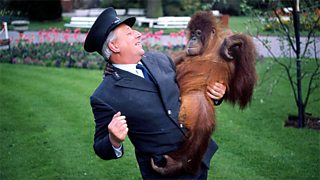 Morris holding an orangutan, 1976
Johnny Morris was often criticised for his children's programmes, in particular the anthropomorphisation of animals. Despite this, his programmes were always well received and for many children the love of wild animals and the natural world were irrevocably linked to shows like Animal Magic.
Morris was an ardent environmentalist and was strongly opposed to the way people were damaging and destroying the countryside. He protested, albeit without much success, on the picket line against the building of the Newbury bypass which was planned to pass close by his home. The bypass was built, despite his efforts.
Awarded an OBE in 1984, Johnny Morris was also an author with books including There's Lovely and Just Like You And Me to his credit. He continued to work after the end of Animal Magic but he was a diabetic and ill health was beginning to dog him.
In early 1999 he collapsed, just as negotiations were finishing for a new ITV series to be called Wild Thing. Admitted to a nursing home in Devizes he died on 6 May 1999.
In the wake of his death, controversy erupted when it was discovered that he had excluded his stepchildren from his will – supposedly after an argument over some bad investments – and left everything to his partner on Animal Magic, Terry Nutkins.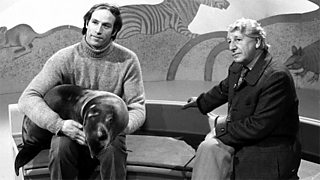 Terry Nutkins and Johnny Morris with Gemini the sealion, 1981
The controversy left a rather nasty taste in the mouth but that should not detract from the legacy of this unique broadcaster from Newport. With his soaring imagination and easy way with words, Johnny Morris really did turn many children onto nature and the love of wild animals.