Cardiff Barfly is closed until further notice, and the internet has been a-buzz with lamentations of the venue's demise since the information first surfaced a couple of nights ago.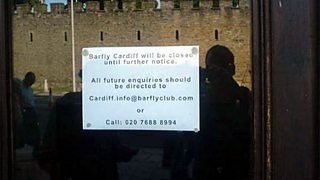 Photo: Glyn Mottershead
While it might not have been the best venue in the world, the 150-capacity space has played host to some amazing bands and was a stepping stone for many local bands since it was launched in 2001.
Be Rozzo, managing director of the Barfly, gave us a statement this afternoon: "After 10 years in the Welsh capital, Barfly has closed its doors for the last time. Over the decade, we've had the opportunity to present an array of extraordinary up'n'coming artists - some of whom have gone on to become festival headliners and household names.
"Cardiff has a rich musical heritage and many genuine music lovers, for this reason we hope at some point to return to the city in a location that better reflects the needs of the current generation of the artists and audiences.
"In the meantime, we would like to wholeheartedly thank the staff that helped to take us this far and all those we've encountered along the way - promoters, agents, tour managers and more - who helped to make sure bands made it there on time, sounded great, and ensured the shows were the best they could be. Most of all, we'd like to thank everyone that attended our events over the years.
"Regarding current shows, we will endeavour to place all forthcoming gigs at alternative locations. Where this is not possible, tickets will be refunded."
Rozzo, speaking to Guardian Cardiff continued: "It's just the recession and a downturn in trade. There's not enough people attending the shows and the clubs. Hopefully if we find somewhere better suited we might give it another go but it's an economic thing.

"Barfly is also part of the Mama Group and resources we used to have are part of the Group and so staff are involved in the bigger venues. We are part of the bigger picture now and that company has grown. The resources that made Barfly successful are being deployed in bigger parts of the country."

Barfly was brought to the city by Welsh Music Foundation as the chain expanded from its Camden base. At the time I was 23 and still going out as many nights a week as I physically could. The addition of the venue to the city's live music scene was welcome - and I remember some amazing gigs there.
Barfly Cardiff opened with a fanfare with a series of high-profile celebratory gigs including a superb headline set by Lostprophets. I've seen Franz Ferdinand and The Killers play there on their way to the top of the charts. I've seen awesome stoner rock band Clutch play one of the very best gigs I've ever seen. And in 2003 I was one of 35 people watching The Darkness play the underground room like it was Wembley or Knebworth.
Frankie Poullain, bassist for The Darkness, told me: "I'm sad to hear The Barfly in Cardiff has closed; it was a great little venue. We felt a kinship with the Welsh, I think it was something to do with being stuck out on the flanks of the UK and forgotten about it, like sides of bacon."
John Rostron, a veteran Cardiff promoter and label manager, told Guardian Cardiff "Of course losing a venue of that size, which promotes so much new music, is a blow for the music scene in Cardiff.
"I saw Kings Of Leon, Interpol, Scissor Sisters, Black Keys, The Darkness and other bands there who all went on to bigger things.
"These small venues are the lifeblood of a music scene in a city - beyond just live music - as they are where technicians and promoters learn their trade, where labels and bands form, where zines start up, where budding managers fall in love with bands - it's a big loss."
Jamie Fullerton, a Cardiff resident for some years, wrote yesterday on the NME.com blog: "the sad thing is that because of a combination of the recession and the general lack of hyper-buzz guitar bands setting the toilet circuit alight every night at the moment, this sort of news has become a depressing inevitability."
He recalls seven of his favourite gigs at the venue including The Libertines, Mclusky, Electric Six and Yeah Yeah Yeahs, and mentions missing Kings Of Leon on their first UK tour. All of which shows that there were some serious bands coming through the venue. He's right, also, in his analysis that the lifeblood of venues such as Cardiff Barfly - indie bands with a public buzz - are in short supply.
Of course things go in cycles and no doubt at some point those bands will come back in large enough numbers to support a venue in that mould. Lisa Matthews, manager of Welsh Music Foundation hopes that the city's live music scene doesn't suffer.
"Barfly is a great loss to the live music scene in Cardiff, " she says. "WMF were instrumental in bringing the venue - the first of the chain outside London - to Cardiff and as a result many more bands played in Cardiff in the early stage of their careers than would otherwise have done. Everyone has their own story of a band they saw there before they 'broke'.
"Barfly also brought over 20 jobs to Cardiff so we need to be mindful of that loss too. The city has been lucky in recent years with new venues such as Cardiff Arts Institute, Millennium Music Hall and The Globe adding much vibrancy to the music scene. Let's hope that it's in that direction that Cardiff's live music sector heads."
What do you think of the closure of Barfly Cardiff? Who have you seen play there? Feel free to comment! If you want to have your say, on this or any other BBC blog, you will need to sign in to your BBC iD account. If you don't have a BBC iD account, you can register here - it'll allow you to contribute to a range of BBC sites and services using a single login.
Need some assistance? Read about BBC iD, or get some help with registering.