Owen Sheers on Dylan the poet
Dylan Thomas was a seismic event in the history of English language poetry. A 19-year-old whose powerfully original work attracted admiration and letters of interest from the leading poets of the day. A modern poet whose writing was daring and experimental, and yet was also rooted in an ancient music, an elemental vision. A popular performer who could attract audiences of thousands on his tours of America.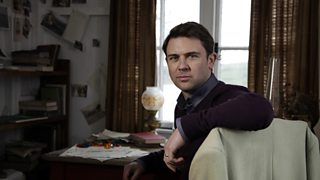 Owen Sheers in Dylan Thomas' Boathouse
Dylan Thomas was also, however, a poet whose life continually threatened to subsume his work. With his death the myth of Dylan the hell-raiser, the womaniser, the drinker, crystallised about him, until it became all too easy to forget the startling poems that first caught the world's imagination.
On the centenary of Dylan Thomas' birth, I want to get back to what makes Dylan Thomas extraordinary - those poems. I want to ask why his work, despite its challenging nature, continues to have such enduring popular appeal. How did he create the seductive effects of his verse? And why, exactly, did his writing have the impact it did when it first appeared in print?
Focusing on five key poems from the different stages of Dylan's artistic development, I'll excavate his worksheets to illustrate the rigorous craft that went into the poetry.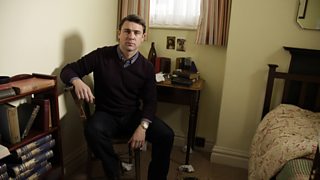 A look at a writer who for too long has been more famous for his life than for his work.
I'll also travel to the places at the source of his poems: suburban Swansea, the London of the Blitz, and the remote rural beauty of Laugharne. In doing so, via this poetic map, I hope to sketch out the biography behind the writing, and to explore the events that fed into Dylan's work.
Along the way I'll be meeting contemporary poets and writers, to learn something of the nature of Dylan's legacy, and to gather their views on his poetry.
By the end of the programme I hope viewers will have had an accessible but in-depth look at a writer who, for too long, has been more famous for his life than for his work. And I hope, too, that the poems that first began Dylan's story will have been placed centre stage in the re-telling of it 100 years after his birth.
Dylan Thomas: A Poet's Guide is on BBC Two Wales, Saturday 26 April at 20:30.
To discover more about the life, work and legacy of Welsh poet and broadcaster Dylan Thomas go to bbc.co.uk/dylanthomas.