Packed season ahead with On The Edge
It's been eight years since the actor and director Michael Kelligan began his On The Edge series of plays in a bid to give more exposure to new Welsh writers, actors and directors.
Its launch marked the start of a popular programme of what he refers to as "script-held" productions - where the cast is involved in a continually developing rehearsed reading, a sort of stripped-down performance where the audience is directed to concentrate on the meaning of the written words rather than setting, costumes and theatricality.
However, each play is moved, costumed and lit, which Michael believes conveys that "near-finished" appearance.
Michael, who runs the Welsh Fargo Stage Company, has been bowled over by the success of the series and is now looking forward to four new plays set to be performed this autumn, with dates at the Dylan Thomas Centre in Swansea, Chapter Arts Centre in Cardiff and the Riverfront in Newport.
The season kicks off tomorrow with Robert Gould and Christopher Orton's The Road To Port Of Barry, a black comedy that has been billed as "Gavin and Stacey with a gun" and is set in a caravan on an ostrich farm in south Wales.
It is the first time On The Edge has put on a play by the duo. Chris has just completed a period in the West End playing Sir Lancelot in Spamalot and Robert is a former history teacher living in Ystradgynlais.
It will be directed by a frequent On The Edge collaborator, Julie Barclay, who also teaches at the Royal Welsh College of Music and Drama. It stars Sam Harding, Scott Barker and Brendan Charleson, who has just finished the highly-lauded production of Coriolan/us with National Theatre Wales.
Next up is Moist by the young Cardiff-based writer Neil Bebber, directed by Mathilde Lopez. It stars Nathan Sussex, who has been in several previous productions for On The Edge, and Claire Cage. The plot centres on a failed stand-up comedian who is reflecting on his life so far.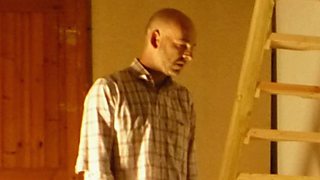 Actor Nathan Sussex in Moist
In November On The Edge is staging Mog by newcomer Aled Roberts and in December comes I Am Angela Brazil by Lucinda Coxon and directed by Hugh Thomas. This last production is a one-woman play where the part is played by a man – and will be an "extraordinary finale" to the season, according to Michael.
"It's a really interesting set of plays and I think people will be very intrigued by them," he says.
Michael set up Welsh Fargo in 1998 as a route to re-establishing his career in professional theatre after a long illness, which was resolved with a heart transplant in Papworth Hospital in 1991.
Chapter Arts Centre put on six readings and it proved popular. On The Edge evolved from there.
He says: "On The Edge all started by accident. We thought we would get together and write a play and Patrick Jones had just written The War Is Dead, Long Live The War in response to the Iraq war so we got the script and were able to do a reading, making ours only the second-ever performance of the play.
"Soon afterwards we had a script from Dick Edwards and got a set of amazing reviews which made us think there was something in these script-held performances."
The cast usually starts meeting a month before the performance to rehearse.
"It's been a lesson in how much a play depends on words and in the end the words do say everything.
"I am very interested in stripping back everything because if it's well-written the audience will understand everything that is going on.
"I give the directors free rein to do what they want, only stepping in if they get stuck, which hasn't happened often. All the directors I've worked with have had such enthusiasm and the work the writers are creating is very exciting."
The On The Edge project is funded by Arts Council Wales and Michael hopes it will last at least 10 years.
Next year he has been given additional funding from ACW to tour Dandelion, a new play by Patrick Jones, throughout Wales.
Talking about how he decides which plays to stage, Michael says: "It works both ways - I get sent scripts and I approach writers and we have a real mix of the experienced and the inexperienced.
"We are constrained to plays with smallish casts due to our funding but the audiences at the Dylan Thomas Centre are always very welcoming and knowing and tell us quickly what does and doesn't work!"
The Road To Port Of Barry starts with a performance at Chapter Arts Centre in Cardiff on Tuesday 11 September, moving to The Dylan Thomas Centre in Swansea on Wednesday 12 September and then finishes at The Riverfront in Newport on Thursday 13 September.
For details on other performances, dates and times visit welshfargostagecompany.com.