Wales and the refugee children of the Basque country
In 1937 almost 4,000 Basque children fled from their homes, and a country that was in the middle of a bitter civil war, to the safety of the UK.
They all boarded one ageing steamship, the SS Habana, which was meant to accommodate just 800 people.
Of the nearly 4,000 evacuees, over 200 children were accommodated in Wales at sites in Caerleon, Swansea, Old Colwyn and Brechfa in Carmarthenshire.
Now, 75 years on, a new BBC programme examines Wales' role in bringing the evacuees to safety, and the stories of children who found an escape from the Spanish Civil War.
In Wales and the Basque Refugees: The Children's Stories, Eddie Butler examines how over 200 children were accommodated in Wales, and how they were warmly welcomed by the Welsh people.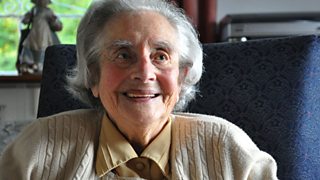 Josefina Savery, a Basque refugee who was 14 when she arrived at Caerleon
He speaks to three of the child refugees, who are now in their 80s, about their journey to Wales, leaving their families and establishing their own families in Wales; Jose Armolea, who was 11 when he left Spain, Josefina Savery who was 14 and Gerry Alvarez who was just seven.
The Spanish Civil War broke out in July 1936. It was one controversial event just under a year later that triggered the evacuation of the child refugees: the ruthless saturation bombing of the town of Guernica in the Basque country in northern Spain, 30km east of Bilbao.
Fighter planes killed what is thought to be hundreds of civilians by targeting the town on what would have been a market day, Monday 26 April 1937, as part of Operation Rügen.
The devastating attack on the town of Guernica sparked appeals from the Basque government for foreign nations to provide temporary asylum for the children of the area.
The British government initially stuck to its policy of non-intervention but eventually bowed to public pressure to allow the children refuge, on the proviso that it would not support the children financially. The Basque children had to rely on voluntary donations from the public.
Watch a clip from Wales and the History of the World:
Story of Basque children evacuated to Old Colwyn in 1937 after the battle of Guernica.
The Habana left the port of Santurce near Bilbao on 21 May 1937, with 3840 children, 80 teachers, 120 helpers, 15 catholic priests and 2 doctors headed for Southampton.
When the children arrived in the UK they stayed at a makeshift camp at Stoneham before divided into 90 'colonies' around the country, including the four in Wales.
In tonight's programme, Eddie Butler tells of the largely warm reception the children in the Welsh homes received, and why some of them chose to make the country their permanent home while the majority of children were repatriated to Spain.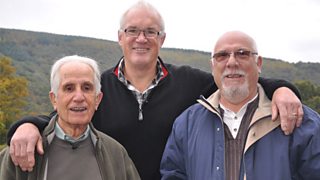 Eddie Butler at site of former refugee camp Brechfa with Jose Armolea and his son Tony