Okay, now I'm stuck. My nose is pressed hard to the floor, and the back of my head, along with my shoulders, are wedged up against the damp limestone. A bag around my ankle, full of light panels and camera batteries, is caught on something and I can't move forward or backwards. I can feel a strange thumping in my feet.
I'm in what cavers call a "squeeze" deep in the Ogof Fynnon Ddu cave system, shooting a new TV adventure series - Extreme Wales with Richard Parks. Richard, Rob the cameraman, JT the sound man, and I, have been underground for nine hours now and, to be honest, it is all feeling pretty extreme.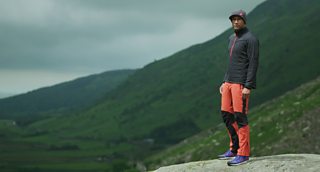 But filming this series was all about the challenges of capturing the essence of extreme adventure. During a three-week shoot in June we chased professional endurance athlete Richard Parks up mountains as he blazed a new cycle route - the highest in Wales. We crawled with him through the deepest cave system in the UK, and negotiated waterfalls as he kayaked on one of the longest rivers, the Teifi.
I've filmed adventure shows all over the world and what became clear to me, whilst stuck in that squeeze, is that as an adventure playground Wales is up there with the best of them.
As I lay there reliving some of the adventures of the previous weeks I smiled, remembering the amazing people we met and how, for them, Welsh adventure is a way of life.
This rather pleasant train of thought was broken, however, by the return of the thumping in my feet. It turns out JT, the sound man, was stuck behind me and using his audio mixer as a battering ram in an attempt to get me moving. You see, the spirit of adventure is as much about moments of adversity and struggle, as it is about exhilaration.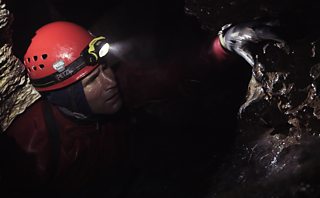 In this series Richard shows us just that - along with the importance of getting out and about, exploring and trying new things. The programmes will hopefully help motivate lots of people to push themselves forward that little bit more. Something an audio mixer, as it turns out, is not so good at.
Extreme Wales with Richard Parks
from Monday, September 12, BBC One Wales, 7.30pm