A north Wales gallery has launched an appeal for privately held artworks by Sir Kyffin Williams to go on show in a special exhibition.
Oriel Ynys Mon in Llangefni, Anglesey, wishes to borrow original artworks held in private hands. The gallery is planning a major exhibition of Sir Kyffin's lesser known works, to run in the Kyffin Williams Gallery later this year.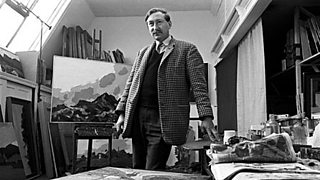 Sir Kyffin Williams
Pat West, curator of the exhibition, said: "We're very keen to hear from anyone who has original works by Kyffin Williams.
"Once an artwork is sold to a private owner, unless it is lent to a gallery, you could say that it almost disappears."
The exhibition, From The Hearth To The Oriel, will run from 17 March to 7 October. Some owners of Sir Kyffin's paintings have already come forward.
"This is an opportunity for everyone to experience the pleasure of standing in front of some great works of art," says West. "We have already had some phone calls, and owners are looking forward to seeing their artwork in a gallery setting.
"We have borrowed from private collections in the past, but never on this scale. I would encourage anyone who's interested to get in touch."
For more information contact Ian Jones on 01248 752082 or Nicola Gibson on 01248 752014.