Hinterland: searching for the perfect location
"Dear Sir/Madam, we are working on a detective series called Hinterland/Y Gwyll and are looking for a location."
Who would have thought that a local boy like myself would have the opportunity of working on such an amazing series?
In over 20 years of working as a location manager I never thought that I would be looking for locations in Ceredigion - the county I grew up in.
In my teens I used to cycle miles through the lanes of Ceredigion, not really appreciating the landscape and its hidden magic. The outside of the Tal y Groes farm location in episode two was found because I remember cycling through the fantastic landscape.
Finding locations is all about communication - it's all word of mouth. Like Mathias, you need to dig deep and find out what makes the area tick. My brother works for an agricultural supply firm and if it wasn't for the fact that one of their drivers mentioned the farm in Llandre, Bow Street, which we used as the interior of Tal y Groes, it would have been like looking for a needle in a haystack.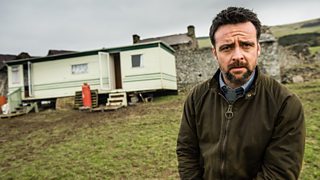 Richard Harrington as DCI Tom Mathias in Hinterland.
When I started scouting for the series locations it took nearly three to four weeks to familiarise myself with this vast county. This process makes a huge difference when deciding on the other three stories. It then took four weeks to narrow down exactly which location suited each scene. In the beginning there was talk of shooting some locations in Cardiff, including possibly the interior of the police station, but once Eryl Ellis the designer and I started to unearth these hidden gems it was plain to see that Hinterland/Y Gwyll would be staying put in Ceredigion. The police station location, thanks to Aberystwyth University and Ceredigion Council, also meant that it was going to be very difficult to find anywhere that would offer us the same kind of service.
We did actually carry out a small experiment and list all the locations found in episode one, and see if we could compare them with any in Cardiff and the Vale. The experiment only lasted two minutes!
Having worked with Marc Evans (the director for the first episode of Hinterland) on "Patagonia", I knew he liked huge vistas and background action like trains, railway tracks and water. Hence we found Byron's workshop near the railway crossing in Borth and most of the locations for episode four.
The most difficult location to decide on was Mathias's caravan. It took many days to find the perfect spot, that edge-of-the-world feel. Again, by chance, we saw the location near the Blaenplwyf mast from afar, while looking elsewhere. It was a very difficult location to access and service!
It was a pleasure working on the series, mainly due to the response I received from directors, editors and producers, but more importantly from the viewers and location owners. Never before have I had so many messages and calls asking where the locations are and how much they have enjoyed the episodes.
Paul 'Bach' Davies was the location manager for the Hinterland series.
Hinterland is next on Monday 20 January at 21:00, BBC One Wales. You can catch up with the series so far on iPlayer.