Zombies, ghouls and gore in store at Abertoir 2012
It's that time of year when ghouls and vampires are haunting our shop windows and we are all a bit more prepared to be scared, whether it's by watching a scary movie or dressing as a bloodthirsty zombie for Hallowe'en.
And for fans of horror films, it's the time of year when attentions turn to Aberystwyth and a festival which, quite by accident according to organisers, has become an annual fixture.
Now in its seventh year, Abertoir attracts horror fans from all over the UK and showcases some of the best new European and British spine chillers on the screen, while re-showing cult classics from across the world.
Guests can also enjoy access to all sorts of appearances by special guests, talks and presentations from experts, live music, silent film accompaniment and live theatre.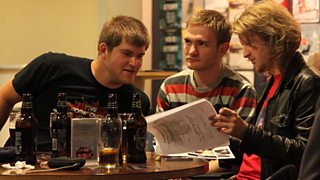 Horror fans at Abertoir 2011. Photo courtesy of Abertoir Horror Festival
This year for the first time the festival is also reaching out to audiences in Cardiff, with a pre-festival warm-up to whet the appetite at Chapter Arts Centre, starting this weekend.
Films run from Friday 26 October until next Wednesday and viewers can purchase a Saturday pass for just £20 or buy three tickets for any shows on offer and get a fourth for free. Visit the Abertoir website for details on what's available at Chapter.
I caught up with festival director, Gaz Bailey, ahead of the festival, which kicks off in Aberystwyth on 6 November and runs until 11 November.
He said: "We're really excited to have teamed up with Chapter as this event gives audiences in Cardiff a taste of what to expect from the main event and hopefully encourages them to come along in the future.
"We've done our best to make it as affordable as possible, with help and funding from Film Agency Wales and Aberystwyth University.
"In Cardiff we've got the Welsh premières of the films Entity, Chained, Spectacle and Before Dawn, which is produced by Marc Price, the man behind the hit zombie film Colin. There will also be several opportunities for Q and As with those behind the films.
"And this year in Aberystwyth we've got the actress Catriona MacColl, best known for her roles in Italian horror, coming along to talk as well as the screening of a silent film called The Unknown, which will have a live piano accompaniment from Paul Shallcross who has created a brand new score especially for the event."
Guests will also be able to don their suspenders and stockings for a screening - with full audience participation - of the Rocky Horror Picture Show and a competition will judge the best dressed.
The festival opens with the extended version of The Shining and closes with an advance screening of Sightseers, the British black comedy thriller directed by Ben Wheatley, written by and starring Alice Lowe and Steve Oram.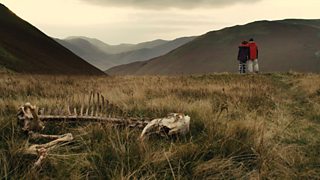 Still from the film Sightseers. Photograph courtesy of Studio Canal
Other highlights include Vincent Price, the festival's official patron, making an appearance in digital 3D for the UK premiere of Sony's newly remastered version of the 1954 classic The Mad Magician. While actor Robert Lloyd Parry takes to the theatre stage to present old fashioned ghost stories from M R James.
Audiences will also get the chance to judge the winner of Abertoir's own short film competition. This year's shortlisted entrants will see their films considered alongside winning short films exhibited at film festivals across Europe.
Gaz added: "We're now a member of the European Fantastic Film Festivals Federation, so we're delighted to be awarding the winning short film a Méliès d'Argent award and an automatic nomination for the Méliès d'Or for Best European Fantastic Short Film, decided each year at the Sitges International Fantastic Film Festival in Spain.
"We're thrilled to be in our seventh year. Abertoir was never designed to be as popular or as long running as it has become but it's the only dedicated horror festival in Wales, hence its success.
"This is also the reason for our determination to make it as affordable an event as possible with the quality of content you'd expect from large cities."
Six-day festival passes cost £58 and allow festival-goers free entry to all films and special events. Individual tickets for screenings and gigs are also on sale. To book, telephone the box office on 01970 62 32 32 or visit abertoir.co.uk.