The sixth Sŵn festival hit Cardiff at the weekend and with it came a better than ever mix of artists spanning every imaginable genre, occupying pubs, clubs and venues across the city.
It all kicked off on Thursday. The palpable excitement that buzzes around Cardiff on Sŵn Thursday is infectious. Close to the epicentre of Swn, in the Moon Club in the shadow of Cardiff Castle, Beard Of Wolves brought their north Walians blend of garage rock and electronica, while over in Cardiff University's student union, Super Furry Animals' Guto Pryce did his cinematic electronica with Gulp bandmate Lindsey Leven.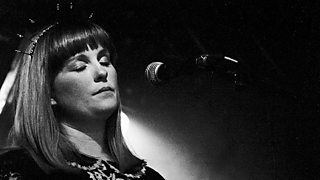 Gulp at Swn 2012
Gulp were followed by arguably the most anticipated act of day one, the neo-psychedelic quartet Django Django, while back over in the city centre northern rock loons Pulled Apart By Horses nailed their metal tinged tunes in a sweaty set at a packed Clwb Ifor Bach.
As Thursday slid into Friday, and Charlotte Church played a nocturnal set upstairs in a small room in Dempsey's pub (yes, really) some real gems were to be found in the murk of the Moon Club. Virals were a definite highlight, offering Nirvana-meets-Tom Petty thrills, ably followed by Milk Maid's Mancunian fuzz rock.
As keen music fans ducked out of work early, Friday's highlights included Welsh Music Prize nominees and Cardiff's finest power trio Kutosis followed in a sweaty Clwb Ifor Bach by part Antipodean art rockers Liars.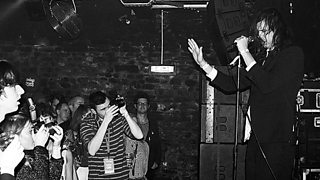 Liars at Swn 2012
Friday's line up illustrated well how Sŵn has grown. Festival favourites and indie royalty The Cribs wowed Cardiff Student's Union with the bouncy pop of Men's Needs and Hey Scensters, complete with highlights from their recent album In The Belly Of The Brazen Bull.
The general pattern seemed to be one of punters trying to make the most of every minute - scampering from Chapter Arts Centre over in Canton to the Globe and Gate in Roath to see pop punkers The Blackout, metal favourites Gallows and the evergreen Paper Aeroplanes. Those who managed to squeeze into the upstairs room in Dempsey's were spellbound by the death cult drone rock of Japanese four piece Bo Ningen. The praise for these guys rang out long after the feedback faded.
A little frayed around the edges but spurred on by the promise of more music and a glorious razor sharp autumn day, Saturday was when Sŵn really hit its stride. Freed from the shackles of the working week, sonic rewards were copious from the Welsh indie label market in Chapter to visual arts showcases.
In Buffalo Bar all things electro and beats based throbbed throughout the day and in Gwidihw, the weekend's home of Welsh language, Patagonian Rene Griffiths wowed a packed venue, as did We Are Animal with their blend of loud, slightly sleazy rock.
It was a wise and drunk girl who said at some point during Saturday: "When all is said and done you can't beat a bunch of long haired guys thrashing about on guitars." On Saturday night downstairs in Clwb Ifor Bach, Black Moth and Holy Mountain proved this to be the case by mixing grungy soundscapes and Black Sabbath riffs, while upstairs BBC 6 Music favourites, the hotly-tipped Palma Violets, summoned up the spirit of The Ramones and heart-on-sleeve indie which seemed somewhat emasculated after the massive riffs from below.
Saturday's best was saved for last. Upstairs in O'Neill's, which usually serves as stag 'n' hen do central, Wrexham's Gallops played their whirlwind of mesmerising riffs and Krautrock-meets-Battles melodies as collectively Sŵn drank up, necked some Resolve and strapped in for the final day.
Once again blessed with un-Cardifflike October sun, Mowbird, a gang of Wrexham-based guys and girl playing their ninth Cardiff show of fuzzed up and surf rock and distortion, provided a much needed slap in the chops. The Peski label did their bit for international relations with the Welsh-Swiss society serving up a tasty cheese fondue and a dazzling range of sounds and styles from Gwenno Saunders' sophisticated pop to Plyci's glitch electronica at a packed Gwidihw.
With Monday getting closer the crowds still stalked from venue to venue, raging against the thought of the working week. While some punters were running on fumes, the bands showed no signs of turning down the wick. In O'Neill's the London quartet Toy upped the ante with hypnotic My Bloody Valentine drones.
The similarly much-talked-about Clock Opera rounded off the proceedings in Clwb Ifor Bach and found favour with a hint of 80s Talk Talk pop wrapped in a healthy dose of experimental  noodling and some impressive facial hair.
Once again, despite some venues being too small for the demand, and there simple being too many clashes in the schedule, the sheer spirit of Sŵn and momentum that  has generated over the last six years was a real shot in the arm for music in Cardiff and Wales. With simply too much going on to do justice in a review, it goes without saying that it was worth the walking and the sleep deprivation – it's just a shame we have to wait another 12 months for Sŵn's return.