Helicopter Rescue: flying high at RAF Valley
Aled Rhys Jones, from Mold in Flintshire, is one of the shooting directors on Helicopter Rescue. This is his second series on the show and he describes what life is like when it's your job to follow an RAF Search and Rescue team, including a certain Flt Lt William Wales...
When I was offered a job filming the search and rescue team at RAF Valley, I jumped at the chance. Being a military base, not many people get to see what goes on behind the scenes, so when this unique opportunity came up to become a temporary member of the life-saving crew it was too good an opportunity to miss. That, of course, as well as getting to fly in one of the most iconic helicopters in the RAF's fleet - the Agusta Westland Sea King.
But before I set foot on the aircraft I had to go on what they call a 'dunker' training session in Fleetwood, to learn about Helicopter Underwater Escape Training. Being dunked into a cold water tank and flipped upside down, I had to find my way out of an immersed mock helicopter cabin. Even after all that, and a full diver's medical, it didn't put me off and I was ready to take to the skies.
I've now filmed well over 50 rescues while 'living in' with the Valley crew. I don't think I could have done all that without being accepted by the team.
But to be fair to them, it didn't take too long for them to get used to me. Soon, I was the subject of their banter like everyone else and then I realised they'd got to know me and, more importantly, had accepted me and my camera. So when it came to going back there for this second series I knew I was going to see some familiar faces.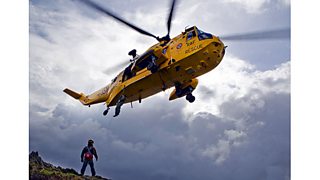 RAF Search and Rescue at work
One of the guys I got to know pretty well over the two series was Captain Dave Prochera-Best: he's recently left the RAF Search and Rescue Force to do the same job in Canada.
I was lucky enough to be filming on his last shift - they gave him a traditional send-off with a dunking in the cleaning bath at Valley. It was sad to see him go but this is the reality of working for the military working life - people come and go - new faces replace the old.
Everyone asks me about Prince William. I can remember the time I first met him: I was reading a newspaper in the crew room one day when he came in at the end of a shift and said "Hi, I'm William" - although he didn't really need to introduce himself!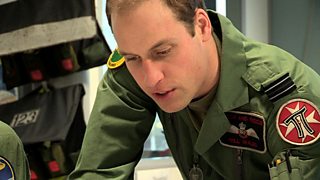 Flt Lt William Wales - aka the Duke of Cambridge
What's striking about seeing him at RAF Valley is his relationship with the other crew members. He's just one of the guys. Because they spend so much time together on their 24-hour rolling shifts there's no standing on ceremony. They just get on with the job.
Watching TV and a few films during downtime with Prince William was one thing, but the real thrill was to fly with him - just like with all the other crew members - during a rescue.
All in all I was there for over five months, filming lots of different people being helped by Rescue 122 - that's the team that flies out of RAF Valley. Among them was a diver who got into trouble at the Dorothea Quarry in the Nantlle Valley, another was a walker who had an accident up on the Crib Goch ridge on the way up to Snowdon, and there were also some students who got into difficulties in the snow on the slopes of Tryfan.
You actually feel quite safe when you're up there with such an experienced crew. But there was one time when I felt more nervous. We were flying over Tryfan one night. It was very dark - pitch black - and four students had got stuck, not far from the mountain's peak. The down draft from the top of the mountain was extreme and there was heavy snow.
You could see the blades' reflection shining off the snow - and then I realised just how close we were to the mountain itself. One thing about the crews is that they never stop communicating so you know exactly what's going on - but on that job there were a few scary gaps when nobody said a word.
I've got nothing but respect for these guys in RAF Search and Rescue. It's so intense. They're constantly put to the test and their standards and discipline levels are so high. As well as being a brilliant experience for me personally, it's been a privilege to fly with such a dedicated and hard-working bunch of people.
I was allowed behind the fence at RAF Valley, and got a glimpse into this fascinating world - as well as flying in a big yellow helicopter over some stunning Welsh scenery. People would pay good money to see the views I've seen!