Daniel Jones; composer, codebreaker and friend of Dylan Thomas
This week marks the centenary of the birth of one of Wales' most distinguished classical composers of the 20th century, Daniel Jenkyn Jones.
Born in Pembroke on 7 December 1912, Jones was surrounded by music from an early age as his bank manager father was also a composer and his mother was a singer.
Jones spent his teenage years in Swansea and studied English literature at Swansea University. His literary and musical interests led him into the circle of friends known as the Kardomah gang, a group of aspiring artists who would meet at the Kardomah cafe in Swansea to discuss their work and the arts.
This influential group of artists, musicians and writers included Alfred Janes, Vernon Watkins, Mervyn Levy, Charles Fisher and, most famously, Dylan Thomas.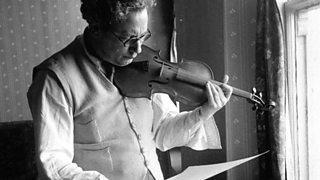 Welsh composer Daniel Jones. Photo: Haywood Magee/Picture Post/Getty Images
Jones studied at the Royal Academy of Music in London from 1935, with the likes of distinguished composers Sir Henry Wood and Harry Farjeon.
As Calum MacDonald notes in a programme for the BBC National Orchestra of Wales, who have performed a number of Jones' works in this his centenary year, in 1935 Jones "won the prestigious Mendelssohn Scholarship, which allowed him to study briefly in Czechoslovakia, the Netherlands, Rome and Vienna and also to hone his considerable linguistic skills."
Though best known for his work as a composer and musician, it was his skill as a linguist that served Jones well during World War Two. From 1940 until 1946 he worked as a codebreaker at Bletchley Park, serving as a captain in the Intelligence Corp of the Army.
He worked on Japanese texts, among other languages, with Bletchley records detailing that he worked in Block F and Hut 4 at the Buckinghamshire base.
Jones returned to music after the war. As MacDonald notes: "In 1950 Jones won the first prize of the Royal Philharmonic Society for his Prologue, after which the bulk of his works were composed to commission, for example from the Festival of Britain, the Swansea Festival, the Royal National Eisteddfod, the BBC, the Royal Philharmonic Orchestra and the Llandaff Festival."
Jones wrote the musical score for the 1954 radio production of Dylan Thomas' Under Milk Wood. The friendship between the two men was lifelong.
An episode of their childhood friendship is captured in Thomas' short story The Fight, published in his 1940 collection Portrait Of The Artist As A Young Dog, which recalls a squabble the two boys had on their walk to Swansea Grammar School.
Jones' memoir, My Friend Dylan Thomas, was published in 1977. His fourth symphony is dedicated to the poet and he also edited a collection of Thomas' poetry, which was published in 1972.
Though his name may not be as familiar to Welsh audiences as his friend, Daniel Jones remains one of Wales' most notable composers.
He composed 13 symphonies, eight string quartets and penned numerous pieces of chamber music, choral and orchestral works plus several operas.
Jones used to advertise his services in the Yellow Pages, his being the sole entry under the composers category in the Swansea edition of the listings.
In an article for The Independent, Boyd Tonkin quotes Charles Fisher, one of the last members of the Kardomah gang, who died in 2006:
"Fisher thought Dan Jones a genius. 'I choose the word after deliberation, believing him to be a major composer of the first rank.' For Fisher, he 'deserves to be regarded as Dylan's equal in the field of creation, not as an extra, or a spear-bearer or as one to be dismissed lightly as 'Dylan's friend'.'"
In 1968 Jones was appointed an OBE. He died in Swansea on 23 April 1993.
Read a blog article by Laura Sinnerton about Jones and his work and view a painting of Jones by his Kardomah contemporary Alfred Janes on the BBC Your Paintings website.