This week the Queen and the Duke of Edinburgh will visit south Wales, as part of her diamond jubilee celebrations. On Thursday she will visit Llandaff Cathedral, previously the scene of a 1960 visit, before making her way to Margam Park and Merthyr. On Friday the royal party will visit Aberfan, Ebbw Vale and Glanusk Park near Crickhowell.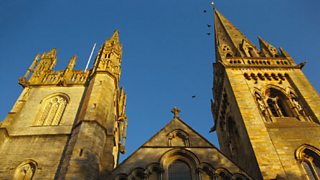 The Queen's visit to Llandaff Cathedral in 52 years ago saw the rededication of the building following its extensive reconstruction from air raid damage sustained in 1941.
Five years previous to the Queen's visit to Llandaff the royal family engaged in a three-day tour of Wales. The 1955 Royal tour took place amid huge crowds from 6-8 August, starting in Brecon before heading west to Pembrokeshire and then up the west Wales coast to Aberystwyth and concluding back in Pembroke.
Day one of the 1955 tour saw the Queen and Duke of Edinburgh visit the Brecknock Agricultural Show near Brecon before she opened Swansea's new water source, the Usk reservoir near Llandovery.
Day two featured a visit to the tiny city of St Davids and a service at the historic cathedral. Following a meet and greet with the St David's lifeboat crew the royal couple headed back to their floating home, the Royal Yacht Britannia.
This clip shows Princess Anne and Prince Andrew making their way by rail from Buckingham Palace towards south Wales to join the party. There's also a bit of speedboat fun with the Duke of Cornwall, better known today as Charles, Prince of Wales, being whisked across the waves by his father, larking under the gaze of the Queen from the safety of the royal yacht.
This year, the royal party will be spending two days in Wales as part of a fairly comprehensive tour of the British Isles. Back in 1955 the three-day tour made its way to Aberystwyth where the Queen visited the university and gave a speech at the National Library of Wales before rounding off their tour of Wales at the birth place of Henry Tudor, visiting Pembroke Castle.