Coming Home by Baroness Tanni Grey-Thompson
When asked if I wanted to have my family history explored in an episode of Coming Home, I immediately agreed. My older sister and I have had brief attempts at looking back at our family tree, but neither of us has really had the time to make a proper go of it.
I had absolutely no idea what to expect because we knew so little about our family. Our parents were both only children and while on my mother's it seemed a big family, we didn't know much at all about my father's side.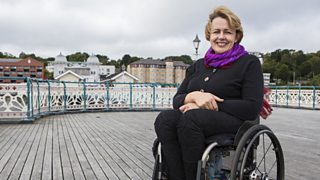 Baroness Tanni Grey-Thompson
My dad's father was a motorcyclist - he competed in road races all over the country, including the TT. His parents had forced him to give it up to 'get a real job', something I think he always regretted. I think that there were lots of reasons why our grandparents didn't talk too much about their families, and it therefore meant that all that history was lost.
Before filming began, I had limited contact with the production team. I was told that they had found enough to make the programme and that was exciting. It was kept a big secret from me, and all I knew was that on the first day of filming I had to meet in Penarth, which is where I went to school.
It was fairly strange arriving and knowing that the whole crew knew more about my family history than I did. The one question that worried me was when I was asked what it meant to be Welsh. I thought that they were going to tell me that I wasn't!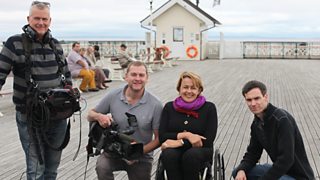 Tanni and the Coming Home production team
The initial interview about what I knew about my family was interesting because it gave me a few tiny clues about what I might expect. I am incredibly nosey and tried to start piecing together what might happen. I didn't really come close.
I couldn't quite believe it when my family tree was rolled out in front of me, and it was impossible to take it all in straight away. Even a few weeks after filming it is hard to imagine how big my family really is - and I go back and look at it frequently.
I didn't expect it to be so emotional or that I would be touched by the actions of people that I had never met.
We got to find out some amazing things. Someone who had been incredibly brave, a bit of a dark side with illegal pub opening hours (that was quite nice to find out), but also that my great-grandmother started working as a domestic servant close to where my sister now lives. That was slightly weird.
Paralympian Baroness Tanni Grey-Thompson in search of her Welsh ancestry.
I wish that we had talked more as a family about our history and knew a little more about what had gone on before - but knowing what I do now, I will make sure I pass it on to my daughter.
Watch this episode of Coming Home on Friday 6 December at 7.40pm, BBC One Wales or catch up on iPlayer.