2012: review of the year in music
It was probably one of the best and hardest years of my life, but that was down to a little bundle of joy called Tegan, who arrived last February.
2012 was also full of musical activity, hear-warming creativity, small successes and celebrations of new and old in the Welsh music world. Let's have a quick whistle stop tour of some of the events.
1. The Welsh Music Prize Winners: Future of the Left, The Plot Against Common Sense
The Welsh Music Prize has become an annual accolade for the wide range of genres, styles, tastes, and creativity being produced in Wales each year, as well as a rare celebration of 'the album' as an artform, despite rumours of its demise.
Indeed, Future of the Left follow in the footsteps of Gruff Rhys who won last year as a deserving band for this years prize, beating off stiff competition from Bright Light Bright Light, Cate Le Bon, Cowbois Rhos Botwnnog, Huw M, Jodie Marie, Kids in Glass Houses, Los Campesinos, and more.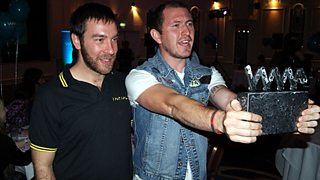 Jack Egglestone and Jimmy Watkins from Future Of The Left win the 2012 Welsh Music Prize
According to the Telegraph newspaper who reported on the prize:
"Band members Andy Falkous, Jack Egglestone, Jimmy Watkins and Julia Ruzicka said: "Everybody says it but we really weren't expecting to win.
"We're a naughty band made up of naughty people, but we're proud to create a piece of art. To get something like this makes you feel accepted."
2. Contemporary Welsh Folk Tour
Although the year ended with a number of Welsh language musicians kicking up an almighty ruckus regarding royalty payments via Eos, a heart-warming tour was arranged in 2012 bringing together three of Welsh folk's finest voices, and all favourites of mine: the alt country Cowbois Rhos Botwnnog, folk troubadour The Gentle Good and harpist Georgia Ruth.
Their selection of venues, and camaraderie throughout the tour is to be much admired, with shared line ups and subsequent recording sessions between many members.
Here's a little documentary made by Cai Morgan for Llais.tv on the tour:
3. John Peel favourites Datblygu celebrate 30 years with an exhibition, film & new EP
"Born in a bedroom in Cardigan 30 years ago, the band Datblygu were hailed as the first truly modern Welsh-language group; their uncompromising, immense music has been described as genius, and their influence on Welsh music as immeasurable."
It was my great pleasure to catch up with Pat Morgan from Datblygu, just before the end of the year on my radio show to talk about Datblygu's legacy, and how a new audience are still being inspired by them, their music.
It was great news too that the creative juices are flowing and that we may hear more new music from them in future, because their music holds its own, sounds equally as vital and fresh today, and politically is still a much needed lone voice in the wilderness. What I mean is that not many new bands are bothering to tackle the issues of our day, but poet and frontman David R Edwards still has something relevant to say for a new generation.
2012 celebrated Datblygu with a year long exhibition in Waffles café in Cardiff, a film produced and directed by Owain Llyr, launched at theatr Mwldan, Cardigan, and a new EP on Anskt - Darluniau Ogof o'r Ugainfed Ganrif a'r Hugain. Head to datblygu.com for more info on the band
4. A new festival happened in north Wales: Festival No 6
Festival No 6 dared to suggest that one of the wonders of Wales, the Clough Williams designed Italian village on the Llyn Peninsula would be a wonderful setting for a few thousand book lovers and ravers - and indeed it was.
From ambitious headliners New Order, Primal Scream, and Spiritualized, and wonderfully kookily curated stages around the festival site (from woods to village green), Festival No 6's first year was an absolute hit, and New Order won an award for their performance at the UK Festival Awards.
5. Radio Wales Music Day
Alongside St David's Day, Radio Wales' Music Day is fast becoming a day to be proud of in Wales, as the station broadcasts across the length and breadth of Wales, championing new music all day long in exclusive events.
In 2012 we went to Barnabas Arts House, Newport with The Boy Royals, Greta Isaac, Joshua Caole, Cuba Cuba and Georgia Ruth, then Theatr Brycheiniog Brecon for the BBC National Orchestra with Sophie Evans and Jodie Marie and then to the Parrot in Carmarthen (a wonderful venue and record shop) for Cut Ribbons, Trwbador, and The Last Republic.
Look out for more of these events coming to BBC Radio Wales again in March 2013.
6. Cob Records in Bangor shut its doors in March last year after 33 years
Not a highlight, but worth marking nonetheless. Owen Hughes from Cob said online sales, music downloads and falling CD sales meant the shop was no longer financially viable.
7. The big Welsh bands were all busy too: sort of...
Stereophonics returned with a taster of a new album Graffiti On A Train and a darker edge to their jams.
Super Furry Animals members came out with all kinds of sexy projects - keyboardist Cian Ciaran released a gorgeous album (one of my favourites of the year) Outside In, bassist Guto Pryce joined forces with the stunning and sultry singer Lindsey Leven to form Gulp who released a 7" single and went on a UK and Ireland tour with Django Django, and drummer Dafydd Ieuan formed the group The Earth with singer Dionne Bennett and Mark Roberts from Catatonia.
Then Manic Street Preachers released a special 20th anniversary of the album Generation Terrorists, with additional film Culture, Alienation, Boredom and Despair, directed by Kieron Evans. A directing name to look out for, he also showed a beautiful debut feature film Kelly & Victor at Soundtrack festival last year.
8. South Wales rock
The Blackout had plenty of Radio One daytime play - indeed, had the best video ideas meeting ever - and went out to Ibiza with Mathew Pritchard to film their Start The Party single. It was a taster of new album out soon. See the video here:
Just eight highlights of the year that's been. Let me know if I've missed anything major - I'm sure to have, and my tips and news for the year ahead will be along on the blog soon enough.
Blwyddyn Newydd Dda bawb. Happy New Year all!