John Frost and the Chartist march on Newport
On 27 July 1877, John Frost - Chartist leader and the man who, more than anyone else, reflected the desire of the Welsh working classes to obtain universal manhood suffrage - died quietly at his home in Bristol. It had been a wild, troubled and often dangerous life.
John Frost was born in the Royal Oak Inn at Newport in 1784. After the early death of both his father and mother he was brought up by his grandparents and became a draper's apprentice in Cardiff, then Bristol and London.
He returned to Newport in 1806 where he married, had eight children and founded what soon became a successful and profitable business. Always a radical, Frost was imprisoned for libel against a Newport solicitor in 1823 but by 1835 he had achieved a degree of respectability and become a town councillor.
Newport Rising, 4 November 1839 (Photo by Culture Club/Getty Images)
Eventually he rose to the position of magistrate and then town mayor – although he was soon removed from the bench because of his connections with the Chartist movement. He was more than vigorous in his opposition to both Tories and Whigs and was particularly dismissive of the influence of the Morgan family from Tredegar House. More importantly, he was not afraid to make his opinions known.
His radical beliefs had clearly not gone away and in March 1839 John Frost was elected to the Chartist Convention in London.
In the days of cynical exploitation of the working classes by those with wealth and power, the Chartist movement was a national drive for political reform, particularly active in industrial Britain in the 1830s and 40s. Perhaps inevitably, Wales, like many of the other industrial regions of the country, was a hotbed of Chartism.
In the 1830s the Chartist movement was a strong and dynamic force that terrified the establishment - both the aristocracy and those with newly-acquired wealth. The Chartists' ideas and theories were based around the great People's Charter of 1838, aiming to:-
"seek a charter of political reform which, it was hoped, would sweep away all the inequalities and bad conditions that working class people had to endure. The Chartists were idealists but idealists with an aim and a mission." (Highlights of Welsh History, Gomer Press)
The People's Charter had six main demands, including a vote for all men over the age of 21 (women were not included!), a secret ballot and the payment of all MPs. Despite being signed by thousands of men and women, the Charter was dismissed by the government and, almost in desperation, people's minds began to turn towards violence.
In November 1839, John Frost, although considered something of a moderate in radical circles, was one of three Chartist leaders in south Wales. Along with William Jones and Zephaniah Williams, he planned a three-pronged march on Newport.
On 3 November somewhere between 3,000 and 5,000 Chartists - most of them miners and iron workers - assembled at Risca to the north of Newport and then marched into the town.
In the event they were delayed by bad weather and so the news of their coming leaked out to the authorities. Chartists in Newport were arrested and held at the Westgate Hotel in the town. When Frost and his men arrived outside the hotel, demanding the release of the captives, they were met by musket fire from soldiers of the 45th Foot.
Between 10 and 15 Chartists were killed, along with a few soldiers, and over 50 injured. The 'battle' did not last long, barely 20 minutes, and ended with the Chartists in total disarray. The march on Newport was over.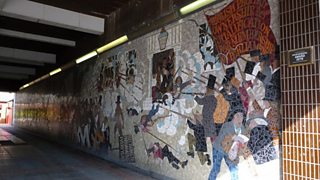 Newport's former Chartist mural (Copyright Chris Downer - licensed under Creative Commons)
In the wake of the rising there is no doubt that the government panicked. Frost, Jones and Williams were all condemned to death – the last men in Britain to be sentenced to be 'hung, drawn and quartered' - and about 150 Chartists were also sentenced to transportation. As it happened, good sense finally prevailed and the death sentence on the three leaders was commuted to transportation for life.
In Van Diemen's Land, now known as Tasmania, John Frost was immediately sentenced to two years hard labour for critical comments he made about Lord John Russell, the Prime Minister. After this inauspicious start, he found himself indentured to a local store keeper. After three years as a clerk he eventually became a school teacher in the penal colony.
In 1854 Frost was allowed to leave Van Diemen's Land on the condition that he did not return to Britain. He went to the USA, along with his daughter, where he lived until 1856 when the restriction on where he could live was lifted and he returned to his homeland. He died in Bristol, 11 years later, a radical and a Chartist to the last – although rather more circumspect in how he voiced his political opinions.
Chartism remained a potent force for some years after the Newport Rising, a number of new Charters being presented to Parliament in 1842 and 1848. They made little impression although the lobby for political reform continued. Chartism as a separate movement however, was never as strong again as in had been in 1839 when, apparently:-
"By the spring of 1839 (it was estimated) there were possibly 25,000 Chartists in Monmouthshire." (The Encyclopaedia of Wales)
Support for Chartism began to wane after the 1850s and the movement eventually just petered out as the working classes achieved many of their aims through legislation – and the growth in power of the Liberal Party - at the end of the 19th century.
These days John Frost is remembered through John Frost Square in Newport, although a mural in the centre of the town, by Kenneth Budd, was demolished in 2013. There are, apparently, plans to create a new memorial to the martyrs of 1839 and, in particular, to the man who inspired them – John Frost.
Image of Newport Chartist mural © Chris Downer and licensed for reuse under this Creative Commons Licence.