Researching your family tree
When I'm asked by people for tips on researching their own family tree, the questions range from which online resource to use to, 'If I have two people with the same name, how do I know which one is mine?'
My first reaction is to suggest they employ someone with experience of building family trees, as the pitfalls of going down the wrong line can be enormous and it can be a long road back! But mostly I have a re-think and ask myself, 'Can I deny these people the joy of discovering new ancestors if that's what they want?' The answer is obviously no, so here are a few pointers.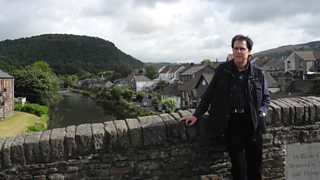 Shakin' Stevens uncovers his Welsh ancestry in Coming Home.
The first useful resource we have, apart from birth, death and marriage certificates, is the 1911 census. A census has been taken every 10 years and the first valuable one was ordered by Queen Victoria in 1841. As a family historian, getting back to the 1911 census - through memory or certificates - is my starting point. You can search online for ancestry websites to gain access to 1841-1911 census listings.
Working backwards, following your ancestors through the censuses and through time can become frustrating, especially if your ancestor doesn't appear at first glance to be on the census. They may have managed to dodge the census (on purpose or not!) or they may have, as I've discovered many times, played games with the census enumerator and told porky pies!
As a tip, I'd say look beyond the obvious, accept that not all the enumeration is correct - and see what turns up.
The first meaningful census showing the individuals by name is the 1841 census, and from 1851 their place of birth is also shown.
In 1837, civil registration was introduced for births, deaths and marriages in England and Wales, but individuals were not compelled by law to register their children's births until the 1860s.
Prior to this act, all was done by the church through baptisms and burials and the obvious church marriage ceremony, which incidentally did not become law until the Marriage Act of 1753. Parish registers can therefore be fragmented.
Quite a lot of parish registers have been transcribed online.
If you're searching a register for your ancestor and can't decide if the person found is yours, a good rule is 'If you can't prove that it's not your ancestor, then you are well on the way to being sure that it is yours'.
You can watch Coming Home on Friday 13 December at 7.30pm, BBC One Wales or catch up on iPlayer.