It feels like only a few months ago that I sat down to write my first blog entry for the BBC Wales Blog, and so, over 100 entries later, I feel somewhat reflective as I sit down to write this, my final blog.
I have learnt so much over the course of these last few years. Writing this blog has offered me an unashamedly self-indulgent opportunity to really delve into the works that we perform, to share my personal relationship with my instrument and work, and to develop and vocalise my opinions about what we do.
I believe, so fervently, that the arts are an integral part of our society, even, or perhaps especially, in this age of instant gratification where whatever you want, there is an app for that, and yet the time we have for our personal lives and needs seems to diminish daily.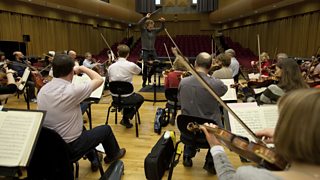 A view from the strings - in rehearsals with Thomas Søndergård (photo by Betina Skovbro)
I believe that music, in particular, offers us a unique way of connecting with our most inner selves, of expressing and/or confronting emotions that are sometimes so intangible, or so deeply personal, that they are impossible to put into words. As the storyteller Hans Christian Anderson so eloquently put it 'where words fail, music speaks'.
We at the BBC National Orchestra of Wales have an exciting 2015 ahead of us, with so many great works, both old and new to bring to our audiences around Wales, and further afield. Earlier this month we were joined by the wonderful young British pianist, Benjamin Grosvenor, considered one of the brightest lights of the keyboard in the world, for a fantastic performance of the first of Beethoven's Piano Concertos. During the course of rehearsals programme, we worked with students from the Royal Welsh College of Music and Drama, and on the concert day, with young musicians from the Swansea area.
As the seasons in Cardiff and Swansea wear on, we will also tour North Wales with young British conductor, Ben Gernon. In addition to this, BBC Cardiff Singer of the World is just around the corner, as is our Doctor Who Symphonic Spectacular UK Tour. The first of our Sibelius recordings with Thomas will be released imminently, and we look forward to visits at myriad British festivals.
Of course, none of this would matter in the slightest if it wasn't for you - our audience. The orchestras of the United Kingdom need the support of their audiences. We need your support. It is a cliché perhaps to say that we are nothing without our audience, but truly we are not. Music, the arts in general, are a shared experience, built upon the interaction and communication of the performer and the audience. In the absence of either party, the purpose of the other ceases to exist.
So, dear reader and listener - be vocal, be present. Get in touch with the Orchestra, let your views be heard, positive and negative alike, and help us to become the most exciting, vibrant, purposeful creative body we can be. We are not only one of the BBC Performing Groups, but also Wales' National Orchestra, and we want to serve the artistic wants of our audience as best we can.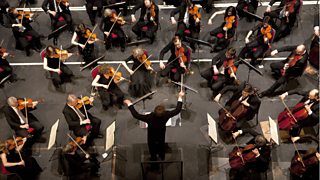 BBC NOW performing in Venue Cymru (image by Betina Skovbro)
It has been a privilege and a pleasure to interact with our audience through my blog, and I have enjoyed the messages I have received, and the conversations I have had with many of you about the work of the Orchestra, the music we play, and the incredible artists who we collaborate with. I look forward to seeing you in a concert hall, somewhere, soon.
This is the last in Laura's series of blogs. Many thanks to Laura for all of her contributions over the years.
BBC NOW's guest bloggers will continue to offer their insight into life in the Orchestra, right here on the BBC Wales blog.