David Litvinoff and the Teifiside blues
The Cardiganshire village of Llanddewi Brefi is generally known for two things: St David, and Little Britain's Daffyd, the "only gay in the village". But there's a third David connected with the village back in the late 60s and early 1970: David Litvinoff.
Born in 1928 in London's East End, and with two brothers who rose to great eminence in their respective fields (one a poet; one a Zionist historian) this David had very different interests in life. A brilliant conversationalist, and fascinated by the music world, he appears to have fallen in with the criminal underworld.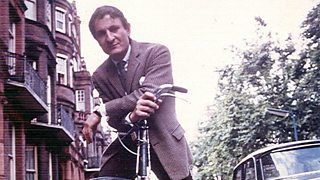 David Litvinoff (photo: Philip Levy)
By the early 60s Litvinoff was spending his time in Soho snooker clubs and drinking dens. A colourful character, he became an associate of the Kray Twins.
Anybody who's seen the 1990 film The Krays will recall the incident in which Ronnie pushes a sword into the debtor's mouth and inflicts horrific injuries. That debtor was Dave Litvinoff - at least, it could have been Dave Litvinoff. Only he was an arch-fantasist, and loved to embroider the tale.
In one version Litvinoff used to tell, he was suspended above the roof garden of Derry and Tom's department store, his screams drowned out by a CND protest march below. Make of that what you will, there's no doubt he did have a scar across his mouth - practically everybody who ever met him remembers the strange grin.
If Litvinoff kept company with some of London's most notorious East End gangsters, he also mixed in very different circles elsewhere in the capital. A fanatical collector of recorded music - he loved early blues artists especially - he appears to have befriended anybody who was anybody on the London music scene: Eric Clapton, the Rolling Stones, Marc Bolan, Jimi Hendrix, John Lennon.
So how did this distinctly urban - and urbane - individual come to the rural tranquillity of Llanddewi? It seems that in around 1968 Litvinoff rented a cottage, Cefn Bedd, from a certain Brigadier Powell.
Litvinoff was by no means the first person to drop out of the London life and live in the village, and certainly he was not the last. It's likely that he hoped a sojourn in the Welsh countryside would help him write a biography of the American comedian Lenny Bruce, and to complete the script for Performance, a notorious film featuring Mick Jagger.
Although Performance was not released until 1970, it was actually shot in the summer of 1968 and captured some of the strange spirit of the emergent counter-culture, where rock stars appear shoulder-to-shoulder with East End gangsters.
Litvinoff was one of the few people who straddled both worlds, and director Donald Cammell relied heavily on him for advice. Although he receives a production credit as a dialogue coach it is commonly conceded that Litvinoff's involvement was far greater. He was instrumental in creating authentic gangster dialogue, and possibly wrote whole pages of script.
Performance combines sex, drugs, violence and rock and roll - things Litvinoff appeared to know a great deal about. Although a well-spoken, charming and apparently harmless man, he did have a violent streak.
In 1967, following the infamous Redlands drugs bust at Keith Richards' Surrey house, Litvinoff took it upon himself to try to discover the identity of the mystery police informant. After giving one unfortunate individual a thorough going-over the suspect was pronounced innocent - though presumably very shaken by the experience.
Few people living in Llanddewi at the time had any inkling of this character flaw in the new hippy living by the Teifi at Cefn Bedd. He seemed a harmless eccentric, given to wearing rough smocks and a red scarf. And if he were truly in hiding he clearly wasn't doing a very good job.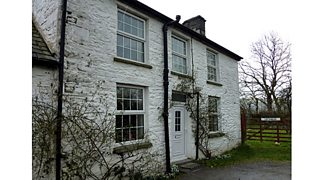 Cefn Bedd cottage in Llanddewi Brefi
As interesting as Litvinoff were the many visitors to his cottage. By all accounts, it seems the lanes of Llanddewi were once thronged with bearded, kaftan-wearing musicians, artists and writers. There is feverish speculation about who exactly came to the village, but there is no doubt that Eric Clapton stayed with Litvinoff, later renting his own cottage, Pentre Richard.
Musician and former Llanddewi resident Rob Parrett recalls dropping in to Litvinoff's house as a 14-year-old boy and seeing Eric Clapton there. Parett and Clapton played blues guitar together; Clapton was evidently so impressed that he left the young man a 12-string guitar.
The artist Martin Sharp, who designed Cream's album covers, was a regular visitor, as was artist Nigel Waymouth. Evidently John Lennon and Yoko Ono called by, although they had to stay at a B&B in Pontrhydfendigaid.
Stories abound that Mick Jagger stayed in the village, recognisable on account of "his huge chops". John Griffiths of Gogoyan Farm recalled Jagger's concern for the plight of the local mole population as Griffiths applied a roller to the molehills in his field. "You give me your Roller," the farmer said, "And I'll give you mine."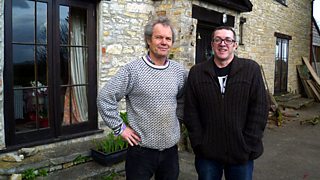 Chris Jagger with Radio Wales presenter Euron Griffith, March 2013
Mystery still surrounds the presence, or otherwise, of Bob Dylan. One of Litvinoff's many guests was a man known to the villagers as Gerry, whom most recall as being long-haired and bearded, with "something of an American accent".
When Dylan released the album Nashville Skyline in 1969, some of the villagers were convinced that the man on the cover was the man they'd known as Gerry. Not so, says antiques dealer Christopher Gibbs, one of Litvinoff's old London acquaintances, who is certain that Gerry was none other than Gerry Goldstein, "David's sidekick".
Litvinoff, as well as having a thuggish dangerous side, was also of a very generous nature. All witnesses testify to a vast collection of music, mainly in the form of reel-to-reel tapes, which he would copy and share with his friends in Llanddewi. He was the first to get his hands on Bob Dylan's Basement Tapes and many other rarities; and he gave freely from his collection of signed Rolling Stones albums.
Some of these mementos survive, along with some much stranger artifacts. Litvinoff was fascinated by the spoken word, and had a great ear for dialogue. With his tape recorder he captured whole phone conversations, including one with a Welsh tramp by the name of John Ivor Golding. What survives of this is testimony to a man of impish humour.
Given the wealth of stories or rumours that have arisen from this brief episode in the village's history, separating fact from fiction after so many years is hardly an easy task. After 40 or 50 years, are rock superstars ever likely to remember all the details of a weekend spent in the Welsh countryside?
Could Keith Richards confirm the story that he was once presented to the innocent girls in the village post office as "Cliff Richard"? Would Yoko Ono say whether she once spent an afternoon driving around west Wales in an exotically painted Mini Cooper? Would Eric Clapton confirm that he once knocked on the door at Dewi Well to ask to watch Top of the Pops, this at a time when TV sets were rarer than hens' teeth in this part of Wales? Perhaps the story is all the more fascinating for the many loose ends it leaves us.
When exactly Litvinoff left Llanddewi isn't clear, but it's known that local resident Ray Daniel was instrumental in tipping him off about a possible police raid. He had noticed that police were keeping a watch on the house and tipped off Litvinoff, who packed up and left overnight.
That mysterious disappearance has prompted much speculation about his end - surely a man with underworld connection must die by foul means? In fact, Litvinoff decamped back to London and thence to Australia, before returning to England. He stayed at Davington Priory in Faversham, then owned by art dealer Christopher Gibbs, and took his own life in 1975 by overdosing on sleeping pills.
The ground rose up when St David preached at Llanddewi Brefi - at least, that's how the story is handed down to us, although you've got to wonder whether somebody hadn't put something in the water at the time! Similar embellishment has happened to the story of David Litvinoff (incidentally, no stranger to the pleasures of narcotics himself).
But, as so often, there is a solid kernel of truth behind the folklore. Some musicians really did come to Llanddewi and play in the village hall. And Litvinoff really did bring the blues - and rock and roll - to Teifiside.
Teifiside Blues, produced by Geoff Ballinger and presented by Euron Griffith, can be heard on BBC Radio Wales tonight at 6.30pm. You can listen again on the programme's web page for seven days afterwards.