If you go down to the woods today...
...well at least in early to mid September, you'll be sure to see yet another exciting and innovative outdoor performance from National Theatre Wales.
This time the trees in the ancient woodland of Wepre Park, near Connah's Quay in Flintshire, are to become the eerie backdrop for a commission from the Argentinian physical theatre practitioner Constanza Macras. Branches: The Nature of Crisis is being staged as part of the finale of the London 2012 Festival and the Cultural Olympiad.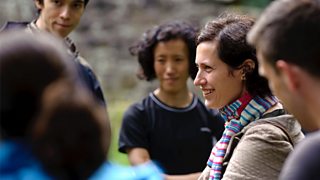 Constanza Macras and cast members. Photo: Joel Fildes / National Theatre Wales
Constanza and artists from her Berlin-based company Dorkypark have joined forces with Welsh professional dancers and musicians, and around 30 performers from the local community. Branches: The Nature of Crisis is an adventurous piece taking its inspiration from the stories of the medieval Welsh manuscripts the Mabinogion, as well as various stories depicting economic crisis across the world.
A version of the piece will also be brought to revellers and visitors to Cardiff city centre at night over a weekend in mid September.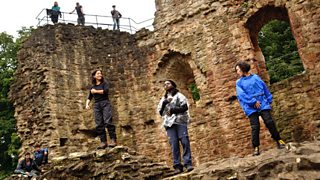 Catriona James, Adanna Oji and Miki Shoji during rehearsal. Photo: Joel Fildes/National Theatre Wales
Constanza told me about the show, which runs from 5-15 September, and what's in store for those venturing into the woods and embarking on the adventure with her cast.
"I think it will be a magical experience - very engaging, both with the physicality of the acting and the incredible setting," she said. "It's such a wonderful cast and they are so happy to work hard."
"I've worked in many places but for me this has been one of the most grounded performances and teams."
The collaboration was dreamed up in 2010 when she met with John McGrath, the artistic director of National Theatre Wales.
"We looked at different sites and I was really impressed with the natural settings and while I was here, I saw the fantastic Weather Factory production, staged in a three-storey house in Penygroes, north Wales.
"I knew then that I wanted to do something outdoors, something related to fairytales and I thought the woods would be the perfect setting.
"Originally I was thinking of taking something from the Brothers Grimm but in so many of those stories the characterisation is odd and the heroes don't behave like you would expect."
Keeping that aspect of transformation in mind, Constanza looked to the Mabinogion for inspiration and various stories from around the world focusing on changes that have happened because of the current dire economic situation.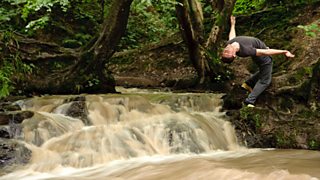 Performer Gareth Aled. Photo: Joel Fildes/National Theatre Wales
But she wanted audiences to also see a more tangible form of transformation as they walk around the woods and decided to draw upon that ever-present character from city centre nightlife, the hen party participant clad in fancy dress.
And so the idea of members of a hen party getting propelled out of their urban habitat and lost in the woods was born - something both Constanza and John McGrath think will engage audiences while raising a smile.
"There's four branches of the Mabinogion but they always take different twists and turns and with what we feature we really push boundaries between what's fiction and what's reality," said Constanza.
"In some scenes people will easily recognise aspects of daily life and figures from history, but the community dancers will also appear at different points in the forest as spirits."
As well as contributions from community dance groups and forestry representatives, the piece also involves musical contributions from a smaller band playing medieval acoustic pieces and a larger punk band, who will bring a lot of dramatic power to the piece, says Constanza.
And in Cardiff on 14 and 15 September, the magic of the woods will be brought to the urban centre in an interactive piece that is still being devised. Audiences will be able to engage with the story as it unfolds on the high street by contributing text messages and helping communicate the story onto billboards.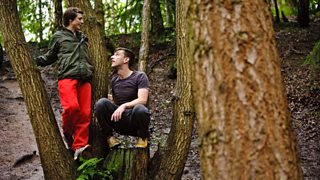 Lara Ward and Gareth Aled. Photo: Joel Fildes/National Theatre Wales
John McGrath said it was a huge honour for National Theatre Wales to have commissioned an artist of such worldwide repute.
"It's very exciting. I think the audiences have come to expect something a little extraordinary in terms of setting from National Theatre Wales and this is another step in that adventure.
"Constanza is one of the most prominent new choreographers and directors in Europe. She opened the Vienna Festival and was getting standing ovations for her work there, so for her to be collaborating with us here, her first time working in the UK, it's a huge honour."
The piece will act as one of several marking the finale of the Cultural Olympiad – a huge cultural celebration that has seen more than 16 million people across the UK taking part in or attending performances to mark London 2012.
National Theatre Wales has also contributed via its productions of In Water I'm Weightless, performed by a cast of six deaf and disabled performers and opening shortly at the Wales Millennium Centre; and also Coriolan/us which took place earlier this month at an aircraft hangar in RAF St Athan in the Vale of Glamorgan as part of the World Shakespeare Festival.
Related links