Playwright Tim Price on his obsession with Wikileaks whistle-blower Bradley Manning
Bradley Manning, 24, stands accused of the biggest leak of government secrets in American history. The former intelligence analyst, who spent a chunk of his teenage years in Wales, is accused of leaking huge amounts of classified information to the website Wikileaks while working for the US Army in Iraq.
Now his extraordinary journey, from schoolboy in Haverfordwest to soldier on trial and in some people's eyes the true hero of the Wikileaks saga, is to be dramatised in The Radicalisation Of Bradley Manning, a production for National Theatre Wales (NTW) in April 2012.
Manning was arrested in May 2010 and since then has been incarcerated in a military prison.
The courts are still considering whether he is to face a court-martial. If he is found guilty he could be executed, although the prosecution says they will not seek the death penalty. However, he could be facing a life sentence behind bars.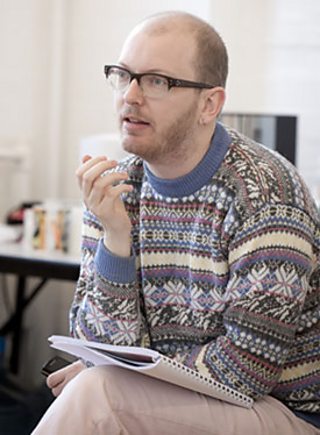 Tim Price. Photo: Marc Brenner
The man behind the NTW project is Tim Price, founder of the Cardiff theatre company Dirty Protest, and the playwright of For Once, which opens at The Sherman in February 2012 and Salt, Root And Roe, staged at the Donmar Warehouse in London in November 2011.
Price was already fascinated by the Manning story before the young man's links to Wales were revealed and persuaded NTW to stage The Radicalisation Of Bradley Manning while it was still just an idea buzzing round in his head.
He says: "I had a commission from NTW and they had given me a slot and we met to discuss it, but I just couldn't get Bradley Manning out of my mind.
"At the meeting I couldn't help but say, 'I think we're doing the wrong play', we should be focusing on him, and we had a discussion and they agreed.
"Because NTW is such a dynamic organisation, I knew there would be the appetite for it and they made it possible, which is a huge credit to them."
So why did Manning's plight strike such a chord for Price?
"I've been completely fascinated by the whole Wikileaks saga and the Arab Spring and how technology has been the prime activists' tool other than conversations in the street.
"Then when I learnt that Bradley had spent a number of years in Pembrokeshire, learning Welsh at school and playing rugby and knows where places like Llanidloes are, it seemed crazy that there he was in his cell and we had this shared sort of experience.
"I definitely had the sense that in Wales not enough people knew about him or supported him, so part of my goal in writing this play is to raise awareness about his Welshness and make people think about why we should champion his cause.
Price has made contact with the soldier's support group UK Friends of Bradley Manning, and via them obtained Manning's address so he could send him a birthday card for his recent 24th birthday and a letter explaining about the play.
He is yet to hear back but hopes he is doing some good for the cause.
So it's clear where he sits on the Manning - hero or villain? - debate, one that's likely to rage throughout any trial the young soldier faces.
US officials have said the leaks of hundreds of thousands of military and diplomatic cables put military and civilian lives at risk, but those who support Private Manning believe that, if guilty of what he is accused of, he has cast a light on injustice, letting the public know the truth about the torture of Afghanis and Iraqis carried out during the US invasions of these countries.
Price says: "If he is guilty then I think he is a hero because he has proven to the world that not only is finance, religion, media, manufacturing and politics transnational, but so is our morality.
"His actions have undoubtedly saved more lives than any other US soldier serving in the military and he did that all when he was just 22.
"But then you can't get forget that this is a 24-year-old, sitting in a 9ft by 6ft cell, likely to go to prison, possibly for 30 years. It's very sobering."
He admits writing the play has come at the busiest possible time for him and likewise NTW have committed to staging the play before anybody knows Private Manning's fate.
Does this make it a nightmare legally and could it disrupt the staging of the production?
"Nobody really knows what the outcome will be but he is likely to face a court-martial and when that will be we just don't know. It could happen in the next couple of months or it could take a year.
"This has meant I've had to keep the script fairly flexible as we go to rehearsal in March, so up until then we are trying to incorporate as much of the story as we can.
"It's important to remember that it is a fictionalised account and not a documentary because we have no way of knowing all the facts.
"In 18 months' time Bradley Manning could be speaking out or writing his own autobiography and it might mean there are inaccuracies in the play, but I'm happy with that, it's part of the journey of writing theatre."
The play will be staged at Bradley's old school, Tasker Milward in Haverfordwest, so the audience will be walking down corridors Bradley himself once walked down, something that strikes Price as a "powerful" part of the whole experience.
His play will deal with the period Manning spent from the age of 12 to 16 at the school and NTW is also planning to stage it at other schools in Wales.
Tickets for The Radicalisation Of Bradley Manning are now on sale via nationaltheatrewales.org.