Richard Harrington's personal playlist
Hinterland has landed on BBC Wales this month and gaining a world of new fans each week. I loved the first airing in Welsh of Y Gwyll, so I knew I wanted to invite the moody and elusive DCI Tom Mathias aka actor Richard Harrington into the studio to pick his musical memories. It was certainly a beautiful journey – from Billy Joel to The Band, drummer Richard was passionate and knowledgeable about his music and had a few surprising stories too. Here are Richard's choices in full.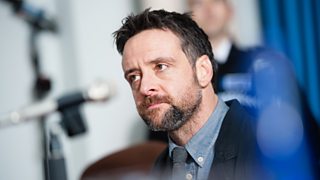 Richard Harrington as DCI Tom Mathias in Hinterland
Billy Joel – Uptown Girl 
This was the first record Richard ever bought at the age of seven or eight, in WH Smith in Merthyr.
"I paid for it with my pocket money and was very proud of that, of sacrificing my football stickers", said Richard. "There were some great record shops in town, and even a man with a suitcase in town selling records!"

Stevie Wonder – Boogie on Reggae Woman
Richard dedicated this track to his mother.
"I grew up in a house where music was huge. My father was a blues fan, and my mother was a Tamla Motown fan - and so I remember the mellifluous tones of Stevie singing through my house as a child. We were like dancing brooms in a Disney film around my mum's kitchen!"
"When I was a youngster, my Uncle, Illtyd Harrington - who was a big political machine in the labour party, and big part of the socialist movement in London in the 70s and 80s - he did this campaign called 'London against Racism', and got Stevie Wonder involved. Stevie did a concert in front of the County Hall building, a lot of the family were invited up including myself - but there was a dilemma that day, I was nine. It was either dinner with Stevie or go and watch Liverpool play. I went to watch Liverpool!"
The Band – Don't Do It (Live version)
Richard's all-time favourite track.
"Just five regular guys that Bob Dylan used as a backing band who went their own way. I've been a drummer all my life, and I've been a big fan of Levon Helm who sings the lead vocal on this one. It's a song about heartache; there's something about love and honour, pain and suffering that you just can't mistake in a lyric, vocal and melody, but at the end of it there's hope and inspiration for everybody!"
The Hinterland star tells Bethan why this track - by The Band - is his all-time favourite
Iwan Williams – When we were young.
In honour of a friend Iwan who died of Leukaemia. Richard will be running the Marathon De Sabre, a six-day, 156 mile race across the Sahara desert, to raise money for Leukaemia research.
"The whole thing became very real to me. Iwan had suffered from Leukaemia for four years and succumbed to the illness in 2012. He was an editor and multi-talented boy - I didn't realise what a great musician he was. After his death, I went to listen to his website, www.iwser.com, a lot of it was written when he was going through chemo, when he couldn't see his family."

Hot Chip – Don't Deny Your Heart
As a fan of electronic music Richard choose Hot Chip as a recent purchase.
"I do like the sentiment of this track, Don't Deny Your Heart, and I think that's something we should all take to the grave really, don't deny it. It's a track you've just got to dance to and it goes places you never expect it to go to, and I think they are a brilliant live band as well."
I hope you've enjoyed a brief re-cap over actor Richard Harrington's personal playlist - you can really hear Richard's passion for the music.
Listen to Bethan's interview with Richard in full or add Richard's choices and enjoy them with BBC Playlister.

The next episode of Hinterland is on BBC One Wales, Monday 20 January at 9pm.