Richard III, whose mortal remains were discovered underneath a car park in Leicester, met his grisly end at the Battle of Bosworth Field in 1485, which brought the House of York to a close and established Henry VII as the first monarch of the Tudor dynasty.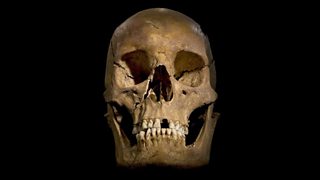 Skull of Richard III (photo: University of Leicester)
Yet Henry's victory nearly didn't happen at all. And when it did, it was due in no small part to a Welsh soldier and landowner, Rhys ap Thomas.
Henry Tudor had been born at Pembroke Castle on 28 January 1457. His mother was Lady Margaret Beaufort, the 14-year-old Countess of Richmond; his father Edmund Tudor, 1st Earl of Richmond, had died shortly before Henry's birth.
The Tudors originally came from Anglesey, and rose up through the court of Henry V. Henry Tudor's rather tenuous claim to the throne came through his mother, who was great-granddaughter of John of Gaunt, the third son of Edward II. Henry Tudor spent the first 14 years of his life in Wales, but the next 14 in Brittany and France.
Richard III had seized the throne in 1483, after disposing of his nephews and executing his enemies to clear the way for his accession. The move gave rise to a conspiracy to depose the unpopular Richard and install Henry Tudor as king.
Henry, the remaining last Lancastrian nobleman with a claim to the throne, was living in exile in the Duchy of Brittany, but made plans to return to England and join the uprising.
An early attempt in October 1483 was curtailed after Henry's ships were scattered by a storm. His highest-ranking co-conspirator, Henry Stafford, 2nd Duke of Buckingham, was to have led forces from south Wales, but the king's men destroyed bridges over the River Severn, and captured and later executed the duke.
The survivors of the uprising fled to Brittany, and several months passed before they attempted another insurrection. Henry began crossing the English Channel on 1 August 1485, landing at Milford Haven six days later. He swiftly captured Dale Castle to shore up his immediate position.
Despite his Welsh heritage, there was no warm welcome for Henry. Few Welshmen joined his army as it began its progression towards England, although he fared better in Haverfordwest, where key local leaders defected from Richard.
The most important defector at this stage was Rhys ap Thomas, Richard III's principal lieutenant in south west Wales. Rhys is said to have previously taken an oath declaring that: "Whoever ill-affected to the state, shall dare to land in those parts of Wales where I have any employment under your majesty, must resolve with himself to make his entrance and irruption over my belly."
A somewhat fanciful legend tells of Rhys lying under a bridge to allow Henry's army to march over his body without breaking the oath.
Henry took his men towards England via Aberystwyth, while Rhys travelled south, recruiting 500 men before joining Henry's army at Welshpool. Although his intended goal was London, Henry first headed towards Shrewsbury, gathering more troops on the way.
The king's army reached Leicester on 20 August, camping on Ambion Hill ready to intercept Henry's march on the capital. Richard had around 10,000 men with him, after being joined by armies led by the Duke of Norfolk and the Earl of Northumberland.
In contrast, Henry Tudor had around 5,000 men, including French mercenaries and Scottish soldiers. The bulk of his men, however, were the Welsh recruits brought by Rhys ap Thomas.
The balance of power in the forthcoming battle, however, was held by the 6,000 men led by Thomas Stanley, 1st Earl of Derby, and his younger brother Sir William Stanley. The Stanleys were sympathetic towards Henry, but declined to enter battle until they saw which way the wind was blowing. This gave Henry no choice but to begin fighting without their support.
Henry gave control of his army to his principal military commander, John de Vere, 13th Earl of Oxford. It was Oxford's strategy of keeping his troops close together that saved Henry's army from being overwhelmed by Richard's greater numbers.
As the two armies clashed at Bosworth Field on 22 August 1485, Oxford's men proved the more resilient. Fearful of defeat, Richard signalled for Northumberland to come to his aid, but the earl refused. Henry chose this moment to ride towards the Stanley brothers, who were stationed nearby with their soldiers, ready for battle.
Spotting his chance, Richard led a group of up to 1,000 knights around the battlefield, intending to cut off and kill his opponent. In the bitter fighting that followed Henry's bodyguards closed rank and defended their leader.
Seeing Henry surrounded, the Stanleys entered battle against Richard's men. The king was unseated from his horse as his army was pressed back into marshland. He fought to the bitter end but was eventually surrounded and killed by Welsh spearmen.
According to Welsh poet Guto'r Glyn, it was Rhys ap Thomas who killed Richard. He wrote that Rhys "killed the boar, shaved his head," although this may have meant that it was his halberiers that struck the fatal blows. Rhys was nonetheless knighted on the battlefield once Henry's victory was complete.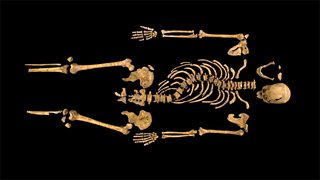 Skeleton of Richard III (photo: University of Leicester)
Richard's forces fell apart as news spread of his death. His body was stripped, tied to a horse and put on show in a Leicester church. Two days later it was interred in an unmarked grave in the church of the Greyfriars.
The church was demolished in the 16th century and its location was forgotten; eventually a city council car park was built on the site. Excavation began in August 2012, and in February the following year a skeleton found during the dig was announced as being Richard's.
Henry VII was the last king of England to win the throne in battle. He united the houses of York and Lancaster by marrying Elizabeth of York, and established the Tudor dynasty which ruled for more than 100 years. But it might never have happened without the support of Rhys ap Thomas and the other Welshmen who took part in the Battle of Bosworth Field.