After all the rain last month, the sunshine is back with a vengeance for September.
Bob Gibbons from Llanigon near Hay-on-Wye took this picture overlooking Rhossili and Worms Head on Gower on Bank Holiday Monday: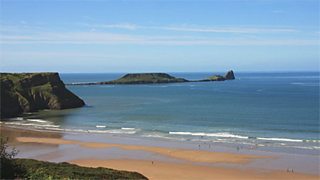 There were lots of surfers in the sea and hundreds of families walking and picnicking. Mind you, if you were or still are camping in a tent - you'll have noticed how cold the nights are getting.
On Monday night, the temperature at Tirabad in Powys and Capel Curig in Snowdonia fell to just 2 Celsius with a ground frost.
While at Velindre near Glasbury it was the coldest August night since 2003. A real sign that Autumn is on the way.
The reason for the low night time temperatures is because the air over us currently has come via the Arctic. With clear skies and light winds at night, all heat from the sun is lost to space causing temperatures to fall sharply.
The dry weather is set to continue until at least Friday, maybe longer if high pressure holds but things are stirring again out in the Atlantic.
The nights will continue to be cool but during the day it will become warmer with maximum temperatures rising into the low 20's Celsius, 72 Fahrenheit.