Death in Hollywood: the Peg Entwistle story
The Hollywood sign hasn't always been a symbol for the pursuit of fame and fortune.
Erected in 1923 and reading 'Hollywoodland', it was originally an advert for a nearby housing development. In fact, it was the death of a Welsh actress in 1932 which helped spawn the potent symbolism now associated with the iconic white lettering lining the Los Angeles hills.
Millicent Lilian Entwistle, commonly known as Peg Entwistle, was born in Port Talbot on 5 February 1908. Her parents returned to West Kensington, London, where Entwistle spent her early childhood. She was a striking platinum blonde with sharp delicate features and an arresting presence, seemingly poised for stardom.

Detail from Peg Entwistle's birth certificate
Entwistle was an accomplished actress. So good, in fact, that Bette Davies cited one of her leading Broadway performances as the reason she wanted to act: "I had to be an actress... exactly like Peg Entwistle."
Unfortunately, Entwistle's ill-fortune far outweighed the good. She lost both her parents at a young age, her mother to illness and her father in a hit-and-run accident following the family's emigration to America in 1922. It was after this tragedy that Entwistle determined to carve out a career as an actress, remaining in New York City while her brothers stayed with an uncle in Ohio.
A stint as a Broadway performer followed, initially minor roles in productions, including a non-speaking part alongside Ethel Barrymore in Hamlet in 1925, before she landed her first credited role in The Man From Toronto a year later.
She worked consistently from 1926 onwards, appearing in nine productions, including Tommy, Sherlock Holmes and Little Women. Though she enjoyed some success, work was hard to come by and often brief: her last Broadway role in A Night Of Barrie closed after barely a month in early 1932.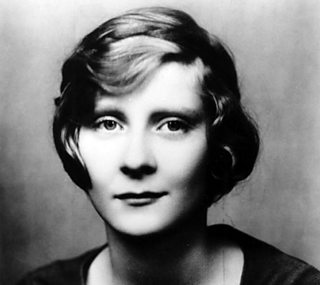 Photograph of Peg Entwistle (courtesy of the Bruce Torrence Hollywood Photograph Collection/Hollywood Sign Trust © HollywoodPhotographs.com)
Entwistle had moved to Los Angeles by May 1932, appearing alongside Billie Burke in The Mad Hopes. She quickly won her first film role as Hazel Cousins in Thirteen Women, since cited as one of the first female ensemble films.
Unfortunately, the film was both a commercial and critical failure, suffering huge cuts following its previews which meant Entwistle barely featured in the final edit. Thirteen Women wouldn't premiere until a month after her death but, clearly unhappy with her performance, RKO studios failed to renew her contract and offers for further work dried up.
With her professional life stalling, Entwistle had also suffered the breakdown of her marriage to fellow actor Robert Keith in 1929. She developed depression, her uncle later confiding in police officers that he was aware of her "intense mental anguish."
On 18 September 1932, the body of young woman was found in the ravine below Mount Lee in the Hollywood hills. Dominating the hillside above was the 50-foot bold lettering reading "Hollywoodland'.
A female hiker made the tragic discovery. She telephoned the central Los Angeles police station and, according to the subsequent police report, said: "I was hiking near the Hollywoodland sign today and near the bottom I found a woman's shoe and jacket. A little further on I noticed a purse. In it was a suicide note.
"I looked down the mountain and saw a body. I don't want any publicity in this matter, so I wrapped up the jacket, shoes and purse in a bundle and laid them on the steps of the Hollywood police station." Then she hung up. The identity of the hiker was never established.
The note in the purse read: "I am afraid I am a coward. I am sorry for everything. If I had done this a long time ago, it would have saved a lot of pain. P.E"
The identity of the body was initially a mystery, leading to the suicide note's publication in several newspapers. Charles Entwistle, Peg's uncle, eventually made the connection between the actress's disappearance and the note's signed initials and, two days after the hiker's discovery, identified the young woman as his niece.
Entwistle, it seems, had leapt to her death from the Hollywoodland sign after telling her uncle she was visiting some friends and a drugstore. It is thought she carried the suicide note on her person as she set off for the hills, hiking up Mount Lee before scaling a maintenance ladder on the back of the sign's letter 'H'.
It was around two days before Peg Entwistle's body was found in a ravine 140 feet beneath the sign. Reaching a verdict of suicide, the coroner's report established that Entwistle had died from multiple fractures of the pelvis.
The funeral was held on 20 September 1932 in Hollywood before her ashes were sent to Ohio to be interred with her father's. The grave remained unmarked until 2010 when, on 16 September following a campaign on Facebook, the Entwistles' burial site was given an engraved granite marker.
The tragedy of Peg Entwistle has been absorbed into Hollywood folklore; for many hers is another tale of adoration and acclaim promised and devastation delivered, one that so many aspiring performers have suffered at the mercy of Tinseltown.
Yet despite the unfortunate events leading up to her death, the depth of Entwistle's despair clearly lay in suffering beyond her recent professional setbacks. Her quietly accomplished Broadway career is evidence of her talent as an actress, and the treatment she received from the notoriously fickle Hollywood studios was not particularly unusual, rather a part and parcel of many painful journeys to the top.
What is certain is that in her final act, Peg Entwistle transformed herself into the symbol of thwarted ambition that Hollywood came to represent for many failed performers, ensuring the legendary status of both the Hollywood sign and the girl who jumped from its dizzying heights.