Huw Stephens on Sŵn: 'The variety amazes me sometimes'
This weekend the Sŵn Festival (pronounced 'soon') will descend upon Cardiff for the sixth time, turning the Welsh capital into a hive of non-stop live music. From Thursday 18 October until late on the following Sunday over 200 acts across every conceivable genre will do their thing from established stadium fillers to new upcoming acts.
Festival directors John Rostron and Radio 1's Huw Stephens have helped develop the festival into one of the UK's most anticipated date on the musical calendar. Huw took some time out to reflect on this year's festival.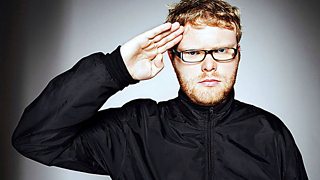 Photograph of Huw Stephens
How have things changed from the first weekend back in 2007?
"It's a totally different festival really. Well, maybe it's not totally different, but it feels to us like a different festival. John Rostron and I started it off initially so that Cardiff would have its own city-wide, new music festival and it's grown in terms of stature and popularity since 2007.
"I think it's more well-known; more bands and people come. Those are the main things that have changed, but it remains small and independent which is something we are happy with."
Indie rock royalty The Cribs make a much anticipated return this year, headlining the Friday night at Cardiff University's student union. What have been your highlights over the last six years?
"The Cribs played the first year of Sŵn, so to get them back is great because they kind of embody what the festival is all about. In terms of highlights, there genuinely have been too many to mention.
"On the bigger side of things, Young Marble Giants, Edwyn Collins and The Joy Formidable have been amazing. Also the amount of new bands over the years from The Vaccines to Straight Lines and many more have been amazing. There is such a variety it amazes me sometimes."
The Sŵn programme has gradually included more events outside of live music. It must be tricky to organise it all.
"The festival is a collaborative effort between the Sŵn team, which has grown and we now have an office in the Canton area of Cardiff, and John Rostron and I are still festival directors. We have a great team, and the whole thing is based around the relationship between us and the promoters who throughout the year put on various artists and nights across the city.
"It is more than just music as we have art displays and we'll be showing the Manic Street Preachers' film for the first time - that will be receiving its Welsh premiere on the Saturday night at Chapter. That non-musical performance aspect of the festival has definitely gone from strength to strength over the years and become more prominent over the weekend.
"We couldn't do this without the army of volunteers. They get on board and they are the people who really make Sŵn work. They steward the gigs, man the wristband exchange and all that, and we are so grateful for their involvement. Without them there wouldn't be a Sŵn festival. It's a massive operation and it works because everyone involved loves Sŵn and knows what it is all about."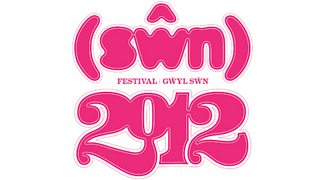 Swn Festival 2012 logo
Being in Wales, how are Welsh language artists a part of Sŵn?
"Because we're based in Cardiff the Welsh language artists become part of the festival organically rather than having to force it into the programme. Other festivals around the world like Sonar in Barcelona and Eurosonic in the Netherlands feature a day devoted to the local scene, but we didn't want to do that.
"We didn't want to segregate the Welsh and the English because that's not what we think the scene is about. It's a sweeping statement, but the Welsh music scene in general is very inclusive, so it's easy to just let the music take precedence.
"Last year we started the Welsh Music Prize as part of Sŵn that celebrates good albums from Wales. It doesn't matter what language they are in, just like the festival in general really celebrating strong Welsh music from all genres but also welcomes artists into Wales.
"There's certainly no pressure from outside forces, there are no quotas on who the promoters get to play - it's a democratic process and we get to bring a good range of bands to the table as well."
Will you be able to break away from your Radio 1 schedule to actually attend your own festival?
"I get asked a lot, especially by some of the bands: 'Will you be there this weekend?' As if I'm going to say, 'No, I don't think I'll bother this year.' Of course I'll be there! Apart from Reading Festival it is my favourite weekend of the year and I'm chuffed that it's grown so much.
"There are 200 bands playing this year so there's more than ever before; I just want to make sure I see a good cross-section of acts and as much interesting stuff as possible.
"We're dedicating this year's festival to the memory of James McLaren who did so much to support Welsh bands over the years. It is a small nod to all the great work he did to make things like Sŵn be able to exist and Welsh artists have a platform to get their music out there."