Filming Great Lives with Molly Parkin
Being part of the crew filming Molly Parkin for Great Lives on BBC Wales has shredded my nerves. She may be in her 80th year but being close to her when she's recounting details of her turbulent life or expounding upon her philosophy is like trying to live with a machine-gun emplacement in the heat of battle.
A hot evening at the Red Gallery close to trendy Hoxton Square in London saw us setting up to film Molly speaking at the opening of the first exhibition of her paintings for a very long time.
About a hundred of the art glitterati - mostly old friends of hers - gathered in the gallery to hear Molly address them.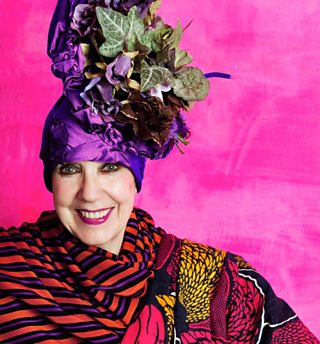 Molly Parkin. Photo: BBC Cymru Wales/Anthony Lycett
Picture the scene: an audience peppered with bizarre costumes and hair-dos; Molly, dressed like an Inca High Priestess, standing in front of one of her rudest, most sexually-explicit and fascinating paintings, saying very rude words of welcome. Suddenly, she plunges her fingers into her mouth and removes her false teeth!
Being used only to the phoney, manufactured outrageousness of artists like Tracey Emin and her showbiz ilk, I begin to slide down my chair, not knowing where to put myself. But it's too late to escape. The film director has spotted my discomfort, the camera zooms in on me and I try to brave it out by sitting up straight and smiling what I imagine is an urbane, relaxed smile.
It lasts for no more than a nanosecond before Molly launches into a detailed account of how some of the paintings illustrate the pain she has carried through the decades since she was sexually and emotionally abused by her father.
Her honesty and directness scorches all of us in the room. The silences between her sentences are so profound that the racket of the surrounding streets seems to emanate from some distant parallel universe, like white noise.
Then she says something that makes us roar with laughter and I see the camera crew struggling to maintain an equilibrium that will prevent the footage resembling the recording of a powerful earthquake.
Molly Parkin has a genius for placing raw emotion against iconoclastic humour, just as her paintings place searing yellows against vibrant blues. And she has the timing of the great jazz musicians who were among her closest friends.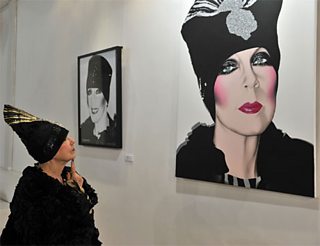 Molly Parkin looking at her portrait. Photo: BBC Cymru Wales/Mark Allen
I leave the gallery, realising that I've just been in the presence of someone for whom the description, Performance Art, was invented.
We owe BBC Wales thanks for celebrating this extraordinary product of the Garw Valley: a slip of a girl who stormed the bastions of London's bohemia, charmed its extraordinary defenders with her beauty, intelligence and talent and remained defiantly independent and indefatigably outrageous.
Great Lives featuring Molly Parkin, presented by Kim Howells, can be seen on BBC One Wales on Monday 30 May at 10.15pm. It can also be viewed on the BBC iPlayer for the subsequent seven days after transmission.