The biggest ever whale sculpted from Welsh sand took form yesterday at Goodwick Parrog in Fishguard Harbour.
The first day of the half term holiday saw over 50 Sea Trust volunteers turn out to create the 25 metre long replica of Moby Dick in just under five hours. The whale building exercise was the brainchild of Sea Trust's Cliff Benson.
Cliff said: "I just wondered how big it would look and if we could get enough people together to build it. In the end loads of kids and parents turned up and we moved tons of sand."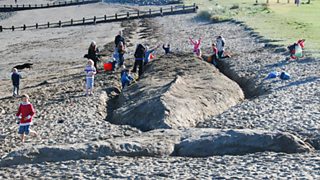 "We had a whale of a time on the beach, next to our marine exhibition in the Ocean Lab."
"It's all about Fishguard and Goodwick's rich marine heritage and we are hoping to build an even bigger blue whale during the Christmas Holidays - maybe even a world record."
The great white whale was made famous in the Herman Melville novel and later the John Ford film made partly in Fishguard starring Gregory Peck as Captain Ahab, back in 1954.