A cold front will sweep south across Britain tomorrow bringing a spell of rain followed by much colder air from the North Pole.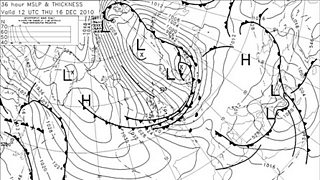 Forecast chart for midday Thursday
Temperatures will drop like a stone tomorrow afternoon and Wales is in the firing line for significant snow on Thursday night and on Friday. Accumulations of five to 10cm are expected (two to four inches) but with possibly 20cm (eight inches) in places by Friday evening. Some drifting is likely, especially on higher ground with blizzards on the mountains.
Some travel disruption is highly likely.
The far south-east of Wales including Cardiff, Newport and Monmouthshire may escape the worst of it but even here expect at least some snow. Ice will also become a major hazard.
http://www.metoffice.gov.uk/weather/uk/wl/wl_forecast_warnings.html?day=2
The weekend and next week will continue very cold with some sunshine and a risk of further snow at times.
Some very low night-time temperatures are likely too: minus 10 to minus 15 Celsius in central and eastern Wales with a risk of more frozen pipes. It might be an idea to top up your car anti-freeze as well and if you are travelling take plenty of warm clothes, a blanket and a hot drink just in case.
You may have read that a white Christmas is certain this year and the bookies have slashed the odds. Well I wouldn't rule it out for some parts of the country but there are no guarantees! At the moment, there is a hint that it may turn a bit milder in the south and west by the 25th. Of course, the forecast could change between now and then. I will keep you posted.
In the meantime, be on snow alert for Thursday night and Friday as well. If you are travelling, take care and allow more time for your journey.
You can keep up to date with the latest traffic and travel news on Radio Wales, Radio Cymru and online at www.bbc.co.uk/wales.
Derek