For fans of the BBC programme Coast, you'll be pleased to know that
Gower
is being featured again shortly, when the remarkable walled sea cave known as Culver Hole puts in an appearance.
Believed to date from the 13th or 14th century, Culver Hole is sealed off by a sixty foot high stone wall, that resembles something out of an
Indiana Jones
film set.
Culver Hole. Image courtesy of the National Trust: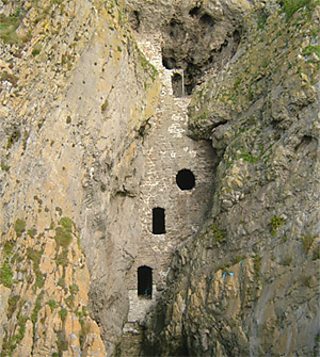 Peppered with a few windows, the internal wall face is honeycombed with around thirty tiers of rectangular nesting boxes which would have been home to hundreds of medieval pigeons.

Pigeons were an important source of food providing meat and fresh eggs during hard times.

Head Warden on Gower Sian Siân Musgrave said: "Stories about smugglers using it and secret passages abound."

"It is also said to have been a castle at some stage, but the nesting boxes appear integral to its whole structure, so in reality it was always a pigeon house."

Culver Hole as seen from a boat. Image by Adie at Frames Photography: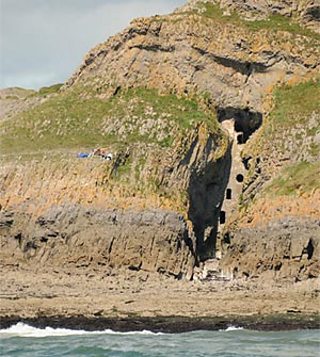 Legend has it that there used to be secret tunnel connecting it with the nearby salt house at Port Eynon for smuggling purposes and that carrier pigeons were also used to send messages between smugglers.
The word "culver" derives from the Old English word "culfre", meaning pigeon or dove. With its ability to breed all year round and its quick regeneration, pigeons provided a plentiful source of red meat - given the necessary shelter and food.
As a result, large dovecotes became quite commonplace in the
Middle Ages
.
A steeplejack was employed to carry out work in 2008 to repair the remains of the top window and wave damage done to the bottom of the structure and most of the work had to be done between tides due to the tricky location.
Culver Hole is within a Site of Special Scientific Interest (SSSI) and is a Scheduled Ancient Monument.
Over the years, I've spent a lot of time surfing the reefs in this area and had no idea this was tucked away in the cliff face, so will definitely take a look next time I'm down there.
Coast
will be broadcast on BBC Two at 6.30pm on Saturday, 14 August or you can catch up via the BBC i-Player.
You can find out more about Culver Hole using the following external links:
www.explore-gower.co.uk
www.the-gower.com/beaches
www.smuggling.co.uk
Gull