Those Were The Days: the Mary Hopkin story
These days we're so used to TV talent shows - the X Factor, Britain's Got Talent and the like - that we tend to forget talent contests from the past.
And the winner of one of them, Opportunity Knocks, was a quiet, unassuming Welsh girl from Pontardawe who went on to achieve international fame and stardom.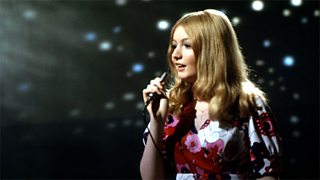 Mary Hopkin performing Those Were The Days on Top of the Pops in 1968
Mary Hopkin was born in the Swansea Valley town of Pontardawe on 3 May 1950. She came from a Welsh speaking family and, from an early age, it was clear that she had musical talent – so much so that her parents paid for her to have singing lessons.
She began her musical career as a member of a Pontardawe folk band, soon to be called the Selby Set and Mary. Her first recording was in the Welsh language, an extended play record (four songs instead of just an A and B side), a record that was moderately successful. However, as the lyrics were in Welsh the record had limited play opportunities in those days before Radio Wales and Radio Cymru.
Hopkin's big break came in the summer of 1968 when she appeared on the national TV talent show Opportunity Knocks, hosted by veteran broadcaster and presenter Hughie Green. She didn't just win, Mary "knocked them dead" and people from all across the country sat up to take notice of this blond girl from the Welsh valleys with a voice of pure gold.
Mary Hopkin's appearance on Opportunity Knocks was seen by model and 60s icon Twiggy. She immediately told Paul McCartney about Hopkin and McCartney, actively looking for new artists to record for the Beatles Apple Label, promptly signed her up.
The rest, as they say, is history. Released on 31 August 1968, Mary's first recording, Those Were The Days – a romantic, even sentimental look back to the golden days of the past – shot to the number one spot in the British singles chart. Sandie Shaw had her version of the song released at the same time but it was totally eclipsed by the record from this Welsh newcomer.
Those Were The Days was a huge hit in the USA as well as Britain, selling nearly two million copies and reaching the number two spot in the Billboard 100. World-wide, record sales of the disc topped eight million and Mary duly received her obligatory gold disc for her achievement and the record sales.
Mary Hopkin followed up her initial success with an LP, produced by McCartney, that reached number three in the album charts. She also recorded and released several more top 10 discs, including Goodbye - which was kept off the top spot by none other than Paul McCartney and the Beatles - and Temma Harbour which peaked at number six.
In 1970 Mary represented the UK in the Eurovision Song Contest. In the days when Britain really did stand a chance of winning the annual song contest, Mary was the hot favourite.
In the event, however, she came second, despite a bravura performance, to Irish singer Dana who triumphed with her saccharine, sickly sweet All Kinds of Everything. Mary's song, Knock Knock, Who's There, got as far as number two in the singles charts – it was some consolation to British record fans.
Having married Tony Visconti, in the early 1970s Mary stepped back from the pop music scene. Always a folk singer at heart, she had never enjoyed the "pop factory" and now was the time to start a family. Even so she carried on recording and even released a few singles that were attractive but not really successful.
Over the next few years Mary featured in groups such as Sundance and Oasis – not the Gallagher brothers band - with Peter Skellern and Julian Lloyd Webber. Her time in these groups was short but she continued to sing and appear at various festivals, often with groups such as the Chieftains. In 1981 she and Tony Visconti were divorced and she returned to Wales to live.
Perhaps her most notable performance from these years was as Rosie Probert in the George Martin version of Dylan Thomas's Under Milk Wood.
Mary Hopkin continues to work and record. Her children are also singers and Mary is keen to help them in their careers. She is no longer part of the pop scene – and is gratefull for that – but her 1968 recording of Those Were The Days remains an iconic image of the 1960s. And it was all thanks to a TV talent show.