Cardiff gears up for festival celebrating gay and lesbian film talent
Cardiff will become a mecca for international film-makers and actors this week as the sixth annual Iris Prize Festival gets underway.
A total of 31 short films are in the running for the prestigious £25,000 prize, which will fund the winner in their making of a new short film.
The festival was set up in 2007 to showcase the very best gay and lesbian film-making talent from across the world.
During the five day event, which runs from 10-14 October, the shorts, along with eight new feature films, will be screened between Cineworld and Chapter Arts Centre. The glittering awards show, hosted by popular performer Amy Lamé, and a film industry discussion will take place at The Park Inn.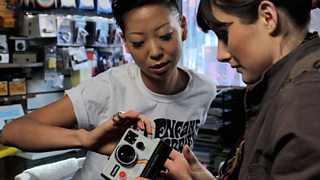 Still taken from Polaroid Girl by April Maxey
Iris Prize founder Berwyn Rowlands told me this is sure to be the best festival yet, with an extra day added, a host of actors visiting and a high standard of entries.
The unique thing about the Iris Prize is that a film-maker will win the prize in year one, return in year two to sit on the international jury and judge the next winner and then in year three will present the fruits of their labour at the very same festival.
This rolling relationship means the festival maintains links and a creative dialogue with its winners.
This year 2010 Norwegian winner Magnus Mork will begin shooting his Iris Prize funded film in Wales at the end of October, while last year's winner, Brazilian Daniel Ribeiro, will sit on the jury.
Mork's film, which has the working title Burger, is influenced by his experience of the late night burger establishments in Cardiff.
And on the closing night of the festival, Little Man, the third film to be made with festival prize money and directed by Eldar Rapaport, will be screened at Cineworld.
It stars West End actor and Any Dream Will Do contestant Daniel Boys in his first gay role.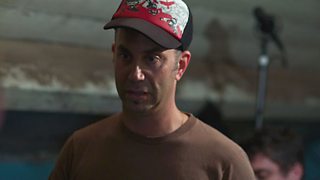 Eldar Rapaport, director and co-writer of Little Man
Berwyn said: "This year the feature films we've gone for are fun, accessible and entertaining and we are closing with the UK première of Codependent Lesbian Space Alien Seeks Same, written and directed by Iris Prize alumnus Madeleine Olnek, which is very funny.
"But we've also got guests coming to our feature films from Israel and America, which is a sign the festival is really growing and we have the mechanisms to entertain these people.
"It's what a film festival is all about. From the public's point of view, I know they want to see great films, but they also enjoy meeting the stars face-to-face. I'm sure they won't be disappointed this year, as we have a great line-up of guests."
Among the VIPs visiting will be Israeli model and actor Oz Zehavi at the opening night screening of Yossi, in which he stars as an openly gay soldier.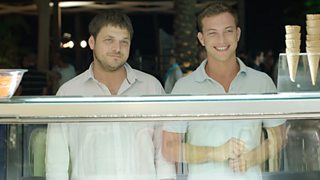 Still taken from Yossi, directed by Eytan Fox and written by Itay Segal
Comic Jackie Monahan, who stars in Codependent Lesbian Space Alien Seeks Same, is to attend the closing night screening of the film, while Daniel Boys will be at the première of Little Man.
This year the topics tackled by the competing film-makers include a young boy's trauma waiting for body hair to grow, a love story which develops thanks to a Polaroid camera, the unexpected comfort of coffee and pie - especially when you're being dumped - and a dramatic one night stand with a serial killer.
Festival-goers will also be able to enjoy panel sessions, networking opportunities, parties and a glittering awards show and brunch.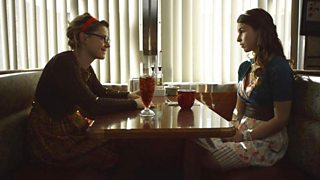 Image from Coffee & Pie by Douglas Horn
Berwyn added: "Half of the shortlisted films have been nominated by our partner festivals – film festivals from around the world that have their fingers on the pulse of upcoming gay and lesbian film-making talent.
"Iris is recognised for supporting talented film makers from all over the world. It's more than just a trophy that gathers dust or a certificate that yellows on the wall. Iris is what film makers need – funding, support and guidance."
Films from all over the globe are represented in the shortlist, with entries from Canada, Germany, Brazil, Israel, France, Norway, Austria, Ireland, India, New Zealand, Spain and Switzerland all making it through to the final.
The US has got the largest number of films in competition with an impressive 10 out of the final 31.
Festival patron Andrew Pierce said: "2012 is a landmark year for the festival.
"We've extended the event by an extra day to enable us to present a more lavish awards show, which is appropriate for the Iris Prize, which continues to be the world's largest LGBT short film prize at £25,000."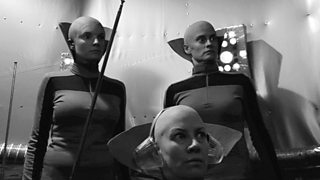 Image from Madeleine Olnek's Codependent Lesbian Space Alien Seeks Same