In conversation with Dafydd James
It's an exciting time for Welsh theatre at the moment, particularly if you are Dafydd James.
The Cardiff playwright's feet have barely touched the ground since his first full-length play, the Welsh language hit show Llwyth (Tribe), took to the stage in 2010.
The play, which explores the idea of identity and friendship, heads to Taiwan next week as part of the Taipei Arts Festival. And for audiences back home there are also additional performances taking place in Carmarthen and Cardiff.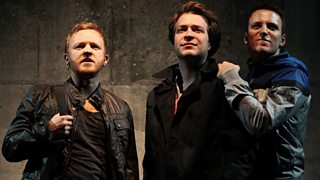 Members of the cast of Llwyth. Photo courtesy of Theatr Genedlaethol Cymru
Meanwhile the run of his show Click for the Mess Up The Mess company, involving collaboration with young people across the globe, is coming to an end at the same time, with a performance at Sherman Cymru in Cardiff and at various venues throughout Wales.
And a new play he has offered creative input for, The Bloody Ballad featuring Mary and The Missing Fingers, runs at the Sherman from 18-22 September.
I was lucky enough to catch up with Dafydd in a moment's quiet amid his hectic schedule, so he could reflect on the events of the past two years.
These have included not only the runaway success of Llwyth, but adapting the award-winning Broadway and West End hit Spring Awakening for Welsh language audiences and seeing his musical The Village Social, co-written with Ben Lewis for National Theatre Wales, tour the country.
Dafydd says that when he penned Llwyth, a story about four young gay friends out for a night on the tiles in Cardiff on a rugby international night, he had no idea of the warm reception it would generate, or that it had the potential to resonate so deeply with audiences everywhere.
Excellent reviews
"Llwyth was very autobiographical in a sense as it was about my own conflicts between my own gay identity and my Welsh identity and I thought in some ways it might produce more of a backlash than a positive response," he said.
"I hoped some people might like it as it was a very honest piece and then during the rehearsal process there was a real spirit behind it from everybody involved, particularly Arwel Gruffydd the director, who helped mould and shape the piece so that it is really a shared effort from both of us.
"I've been delighted with the response it has had - I never imagined it would be staged elsewhere in the world."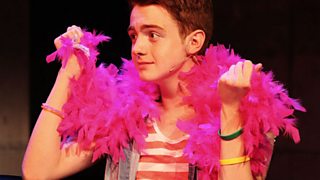 Llwyth is a story of four young gay friends out for a night on the tiles on a rugby international night. Photo courtesy of Theatr Genedlaethol Cymru
Originally produced for the Sherman in April 2010, Llwyth received excellent reviews and played to several packed theatres throughout Wales, as well as having a sell-out run in London.
Llwyth in Taiwan
Sherman Cymru and the Welsh language national theatre, Theatr Genedlaethol Cymru, are taking the production to the Taipei Arts Festival in Taiwan from 31 August to 2 September 2012 – the first international foray for either company.
The venture came about after the organiser of the festival saw Llwyth at the Edinburgh Fringe Festival in 2011, when it featured as one of 25 shows in the British Council showcase.
While it will still be performed in the original Welsh in Taiwan, there will be surtitles in English and Mandarin.
Dafydd said: "We were very excited to find out why it might appeal to people in Taipei. It's an investigation of what it means to belong to a tribe, be it a Welsh tribe, a gay tribe, or a family tribe, and underneath that is a universal story about friendship and about a boy losing his mother and anybody can identify with that.
"Since news broke that we were staging it in Taiwan, I've had a very moving email from an online gay magazine there saying how excited people were that it's the first gay themed play to come from outside Taiwan and it's very exciting to think that Llwyth is contributing culturally within Taiwan as well as here.
"I know in Taiwan there's an ongoing national debate about their own cultural identity and independence in relation to China - so it has the potential to resonate on a different level there."
Llwyth stars Simon Watts, Danny Grehan, Paul Morgans, Michael Humphreys and Joshua Price, and features local choirs wherever it is performed. In Taipei the cast will also be working with a local choir - something Dafydd believes helps connect with the community and contributes to the ongoing dialogue surrounding the show.
During the festival a camera crew from Fiction Factory will be filming the experience, with the hope of making a documentary for S4C.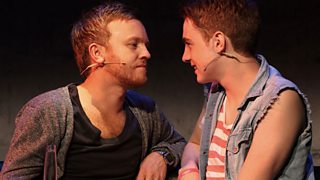 Llwyth production shot. Photo courtesy of Theatr Genedlaethol Cymru
There will be one performance of Llwyth in Carmarthen on 23 August 2012 before the cast leaves for the Taiwanese capital.
On returning to Wales, there will be further performances at Clwyd Theatr Cymru, Mold on 6-7 September and Sherman Cymru, Cardiff 12-14 September.
Click
2011 was also the year that Click, Dafydd's play about 12 young people living in Australia, New Zealand, Hong Kong, and Wales and their communications via the web, toured Wales and premièred in the three other countries involved.
It saw teenagers from the four countries collaborating and sharing their ideas via blogs and social media, while offering a comment on the grittier issues facing today's young people - from emerging sexuality and homophobia to teenage pregnancy and the challenges facing young carers.
It has been showing at various venues throughout Wales and continues its run next month, with dates at the Sherman, Ammanford Miners' Theatre, Pontardawe Arts Centre, Galeri in Caernarfon, Coleg Sir Gar in Llanelli and the Muni Arts Centre in Pontypridd.
Dafydd says he is indebted to the young people who have been involved with the production and will never forget their contribution.
"It's amazing to have two such important chapters of my life – Llwyth and Click – coming to an end at the same time. Both have been such an incredible experience."
He has also offered creative input on The Bloody Ballad featuring Mary and The Missing Fingers. It's the first production by new Welsh company Gagglebabble, led by performer Lucy Rivers, who Dafydd worked with on his short award-winning play My Name is Sue and The Village Social.
It will see rockabilly and horror combine for a brutal love story set around Memorial Day in 1950s America.
Dafydd said: "It's a fantastic night out and set up as a rock gig and a song title while being told extremely theatrically and evocatively.
"It's a really good, fun experience with lots of toe thumping and hand clapping."
So what's next in this impossibly busy and enviably exciting schedule? Well Dafydd is currently busy writing songs with Rob Evans for a production of Peter Pan taking place at the Sherman this Christmas.
He is also developing a new Welsh language play and writing a play for young people at the National Theatre in London as part of their Connections programme.
Phew! I can barely keep up!
For details on when Llwyth is showing visit shermancymru.co.uk and for dates for Click see messupthemess.co.uk. For more information on Theatr Genedlaethol Cymru visit theatr.com.