John Batchelor - 'The friend of Freedom'
Most visitors to Cardiff have seen his statue, isolated but resplendent in the Hayes. Quite often he sports a traffic cone or a waste paper bin on his head or arm - student humour seems to have changed very little over the years. But very few people know much about the man himself.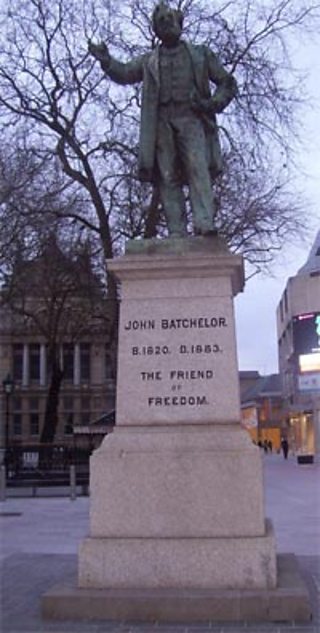 Statue of John Batchelor © Copyright Peter Clayton licensed for reuse under this Creative Commons Licence
John Batchelor, "The Friend of Freedom" as the inscription on his statue declares, was one of the most notable citizens of Cardiff in the middle years of the 19th century. He was a shipbuilder, timber merchant, radical politician and a man with a genuine interest in helping the poorer classes of his adopted town.
Batchelor was born in Newport in 1820 and moved to Cardiff while he was still a young man. He went into business as a timber and slate merchant, his companies being based in the dock area of Cardiff. However, he also soon established timber yards in both Merthyr and Aberdare.
Living in Cardiff, it was perhaps inevitable that John Batchelor should develop his business interests to include nautical elements, and a move into ship building was perhaps always on the cards. He was also one of a group of men who founded and established the Mount Stuart Dry Dock.
Politically - and emotionally - Batchelor was adamantly opposed to the Bute family, the most important and influential clique in south Wales. There were many conflicts, particularly with the third Marquess of Bute, a man who virtually held Cardiff and its docks in the palm of his hand. Partly as a way of circumventing Bute control of the Welsh coal trade, Batchelor became involved in the creation of Penarth Docks, being appointed its director in 1856.
Quite apart from being a successful businessman, Batchelor had a clear social conscience and his concerns led him to the radical wing of the Liberal Party. Between 1850 and 1859 he was a Liberal councillor for Cardiff South and in 1853/54 he served as Cardiff Mayor. He was elected president of the Cardiff Liberal Association in 1869 and, as a devoted Congregationalist, he was responsible for the founding of a new chapel in Charles Street.
Batchelor's range of interests was immense. He campaigned, tirelessly, against abuses such as slavery and he was also the Chairman of the Cardiff School Board. Above all, he was concerned with municipal reform and was opposed to the vested interests of the Tories and of people like the Butes. He genuinely wanted to help people less fortunate than himself.
This stance, of course, brought him into regular conflict with the 'establishment', and he always sided with the underdog. There are those who say that the eventual collapse of Batchelor's business empire was down to various conspiracies by the Butes and their supporters. Whatever the reason he lost money, his companies went into serious financial decline and, in the 1870s, were eventually liquidated.
John Batchelor still had many friends and supporters, however. After the collapse of his businesses, friends held a collection and were able to present him with the grand sum of £5,000 - no small amount in those days. Batchelor continued to work as an agent until his death in 1863 but, as far as social reform and public acclaim were concerned, his glory days were gone.
And yet, not quite. It was decided that Batchelor had been such an influence in Cardiff that he warranted a statue. The sculptor James Milo Griffith was commissioned for £1,000, and the statue was duly placed in the Hayes. It was unveiled on 16 October 1886.
The positioning of the statue was highly significant. It was placed just outside the new Cardiff Free Library, the creation of such a resource having been something that Batchelor and all Liberals in the city had, for many years, been campaigning for.
But if John Batchelor had many friends, his radical stance had also earned him many enemies. There was much opposition to the idea of a statue to commemorate the man, a petition of 1,200 signatures being gathered together. And just a few months after it had been unveiled, the statue was daubed with black paint and tar.
In 1887, a local solicitor, Thomas Ensor, wrote a mock epitaph in the Western Mail, a piece that was so scurrilous that he was taken to court and tried for criminal libel. The case was thrown out, the judge declaring the dead had no rights and could, therefore, suffer no wrongs - in other words, you could not libel the dead. It set a precedent in British law that still stands.
John Batchelor was a man of principle, an honest man who stood up for justice and the rights of the ordinary citizen. Remember that the next time you walk along the Hayes and see his statue with its traffic cone or some other ornamentation perched on its head. Batchelor probably wouldn't have minded but you can't help thinking that the man deserves better.
Phil Carradice will be on the Roy Noble Show on Radio Wales from 2pm today, Tuesday 24 April, chatting about Welsh philanthropists.