GI babies - researching American soldiers' families
Today being 4 July it seems fitting to write this blog about some of the hardest searches with which I am involved. These requests come from the children of American soldiers, or GIs as they were more commonly known, based in the UK during World War Two.
Nobody knows exactly how many GI babies were born but it is estimated to be in the thousands. Naturally time is running out for these children to successfully be able to trace their fathers, but there is still much that can be done to trace extended families and to learn additional and much appreciated personal information about their fathers and, in exceptional cases, a glimpse of a treasured photograph.
Sadly, for many the search may not be so successful but there are several key organisations who can help. The very best place to start your research is with GItrace.org. They offer free help and advice alongside a wealth of experience and a vast membership who can provide additional emotional and practical support. They explain how to use the Military Personnel Records Center to apply for the service records of US military personnel.
The first GIs landed on Britain's shores in 1942 and brought with them candy, Coca-Cola, cigarettes and nylon. Young women were quickly invited to attend dances at local army bases and of course the GIs were happy to teach them.
The resulting relationships meant that over 70,000 GI brides crossed the Atlantic after the war. In his book Cardiff, A City At War, Dennis Morgan states that there were 72 GI brides from Butetown alone.
Naturally there many other relationships that did not or simply could not end in marriage for various reasons. One poignant photograph shows a hastily scribbled message painted onto the outside of an army tent which reads "Sorry Jean, Had to Go, Johnny".
With so many GIs based in south Wales I thought a good place to start my search would be at the Glamorgan County Archives. However, so much of what they did was secret that very few records survive, and those that do would be subject to a closure period of at least 75 years. A search of their catalogue resulted in one solitary but poignant letter of thanks.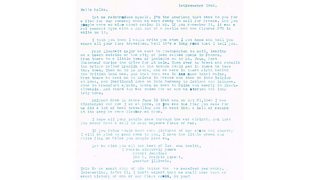 Letter from a GI detailing his return to America
Robert Jennings, the writer of the letter, seems like such a nice man. I would love to hear from him or his family to see what happened to him after the war.
It is widely reported that the GIs were generous. This was possible for them since their average salaries were more than five times that of a British soldier, they had no living expenses to worry about and no rationing either.
The author Dennis Morgan recalls a Christmas party at the Rhydlafar US Military hospital in Cardiff where, as a small child, he was served peaches and spam with orange juice and ice cream. Naturally this veritable feast was one of his fondest memories.
The Times newspaper reported on 4 August 1942: "Their manners were good, though a little different from those in Britain. Americans were perhaps a little quicker on the uptake, but they made friends more easily..."
Similarly the ladies who volunteered to run the church army canteen at the Carlton Rooms on Cardiff's Queen Street remembered how the Americans they served would breeze in full of banter and wisecracks but "that they were always charming and offered to help with the washing up". How I wish there was a photo of that!
As part of her research into Newport's history Michele Lewis has gathered volumes of personal memories, photographs, clippings and facts about the GIs based in and around Newport following the disembarkation of 1900 American servicemen who arrived in early 1942 at Newport docks.
By the time the war was over about three million US soldiers had passed through Britain, with most of them disappearing virtually overnight in June 1944 when they were secretly dispatched to the beaches of Normandy.
As a way to express their thanks those GIs who were based near Whitchurch in Cardiff raised the funds for a plaque and also planted an avenue of trees on the common, which survives to this day thanks to a recent restoration project.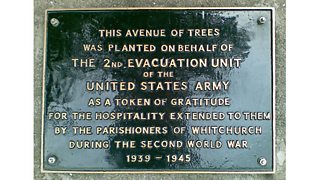 Plaque in Whitchurch, Cardiff, for American GIs
Listen live on BBC Radio Wales on Louise Elliott's programme on Friday July 5th to hear the story of the Cardiff based son of an American solider, after which another blog will be posted to explain everything.