Local artists win long campaign for new gallery in Aberystwyth
After a hard-fought campaign spanning several decades, a group of artists have finally won their quest to open a new gallery in the centre of Aberystwyth.
The Gas Gallery or Oriel Nwy was launched at the end of June and will be entirely self-funded by artists from the area, with volunteers staffing it on a daily basis.
It is situated in the Old Gas Showrooms on Park Avenue – a building which had lain empty for some years.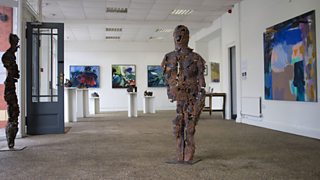 Gas Gallery - Oriel Nwy. Photo: Tim Strang
The new venture marks a triumph for the group known as Celf Ceredigion Art, who have spent many years negotiating with Ceredigion County Council to turn some of the town's many empty buildings into exhibition spaces.
The project is a one year pilot and sees the group working in partnership with the council as they work to promote the best art the area has to offer.
Volunteer Janet Lougee told me: "The inspiration behind the campaign was to turn these empty spaces into vibrant art galleries and to bring art right into the centre of Aberystwyth so that residents and tourists alike can enjoy the great talent on offer here.
"We are very lucky to already have the Aberystwyth Arts Centre but that is slightly out of town. There are about 50 volunteers working behind the scenes at the Gas Gallery who are all very passionate about art and what this new venue stands for and keen to share their expertise and enthusiasm with others.
"We are very optimistic that there is a long future ahead for the gallery and are hopeful we can secure further funding to keep it running."
The first-ever exhibition, Topography, is now open and features work from painters Mary Lloyd Jones and Grant Smaldon and sculptures by Alison Lochhead.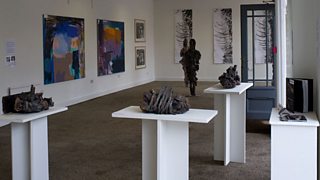 Inside the gallery. Photo: Tim Strang
Mary Lloyd Jones' works include different ways of viewing the landscape via images of Ceredigion and further afield. Alison Lochhead's contribution includes sculptures of the Metal Mines of the Cambrian Mountains made from mix of cast iron, clay, mine rocks and wood while Grant Smaldons includes oils on canvas and acrylics.
The gallery will also act as a focal point during next month's Ceredigion Art Trail, the second year the event has been held.
The exhibition of work by Mary Lloyd Jones, Alison Lochhead and Grant Smaldon continues at the Gas Gallery - Oriel Nwy, on Park Avenue, Aberystwyth, until 31 July.
The gallery plans further events including performances, installations, storytelling, poetry and dance as well as an open exhibition for artists in Ceredigion and an 'Art on the Walls' exhibition in the Gas Showroom Yard.
For more information visit celfceredigionart.org.